art, business and economy, dining and cuisine, education, event, everyday glory, faith and religion, family and friends, food for thought, football, games, geekery, health, history, movies and TV, politics and law, science and technology, the world, trains/model railroads, Whiskey Tango Foxtrot...?!
No Comments »

Thursday – 29 December 2011
Another NBN Thursday is under way and I have already been to – and returned from – the airport. My uncle came to town Tuesday night for a post-Christmas visit and to meet the new additions to the family: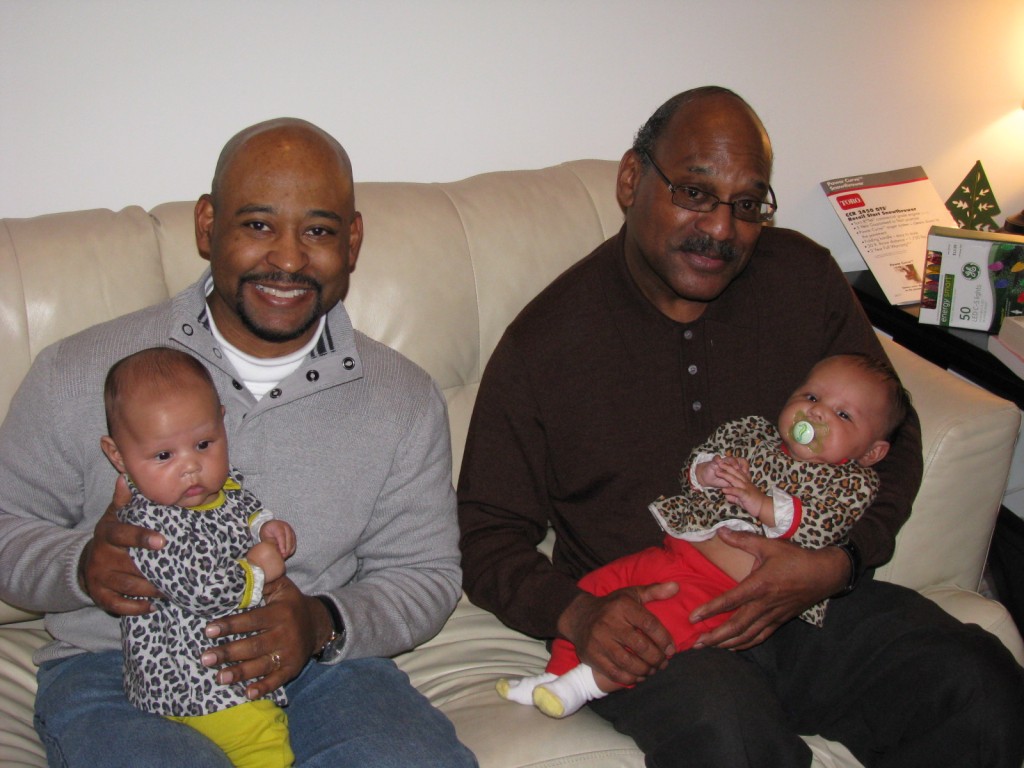 It was a short visit, but a very full one. The girls, who've been a bit fussy with new people lately, took to him fairly quickly; he took to them immediately. It was fun watching the three of them interact.
We also managed to squeeze in a trip to see the Lights on Temple Square last night. We bundled the girls into their bear suits and car seats and set off for downtown. We got there around the time that the girls are usually beginning to wind down before bed. But, with so many things to see – and all of the sounds – they were awake and staring at all the sights. About two-thirds of the way through our stroll, Diana started to fade; Vanessa was still going strong… until we got to the car. Then they traded: Diana woke up and Vanessa napped. We got home, changed and fed them and put them to bed. Diana faded out somewhat quickly; Vanessa, however, got a second wind and decided that bedtime was the perfect time to tell SaraRules! all about the adventures she had during the day. It took her almost an hour to wind down and fall asleep. On the "plus" side: They slept until almost 5 AM.
After the girls went to bed, my uncle and I went to Pawit's to pick up dinner. He, SaraRules! and I ate and we introduced him to TopGear (UK). It was a good way to wind down the day and his visit.
Stray Toasters
For SaraRules!: Not sure where this rates on your "uncanny valley" scale, but it has graffiti: Robot that paints random graffiti
While I haven't gotten in a lot of play time, I've been enjoying CoD: MW3

I also realize that I still need to go back and finish three HALO games: 2, 3, and Reach.

Young girl rages over pink toys and gendered play-choices
This reminds me of of this post from my brother-in-law, about my niece, Grace:

Yes lady, I'm aware that the "space explorer" pajamas were in the boys section. I'm also aware that my child is a girl. No, she wouldn't rather have the pink princess ones. And yes, I can assure you that she picked them out on her own, so wipe the condescending look and eye roll off your face. My little girl can be a space explorer if she wants to, so suck it, wench.

Amen.

And, as a corollary to the above: Gamer Girl Manifesto
Thanks to Keith for (re-)posting this picture:

Thanks to Corey for this: Photos of the Steam Festival at Golden Spike Historical Site
From the "What's Wrong With This Picture…?" file: Police storm Church of the Nativity to break up brawling priests
I just put the girls down for a nap. Let's see how this goes.
Namaste.