comics and animation, everyday glory, food for thought, kids, office antics, quote of the day
No Comments »

Thursday – 05 March 2015
It's just another Manic Monday No Bad News Thursday.
My day started a little earlier than usual, as I had to be on-site about an hour-and-a-half early to follow up on a [EXPLETIVES DELETED] [REDACTED] project. As I was getting ready, I heard Vanessa milling about in her room. I went in and told her that it was still "sleeping time" and that she should go back to sleep. She didn't, but she did lie quietly in bed.
Ten or fifteen minutes later, I heard her making (mostly) quiet noises; I went back in to check on her. She asked "Is the sun up?" I told her that it was, but that it wasn't time to wake up yet; I asked if she wanted to go into the other bedroom and hang out with Sara! until it was time to get up. She said "no," and that she wanted to read in bed. I told her that would be fine. She got one of her My Little Pony comics, crawled under her covers, and proceeded to "read" it.
Shortly, I was packed up and out the door. I didn't set the coffee maker last night, therefore, I had no to-go cup of caffeinated goodness this morning. I rectified that with a trip to Pin-up Girl Espresso.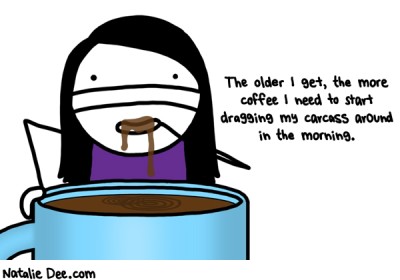 I paid with a card, but didn't have anything smaller than a $5 bill with me for a tip. So, I gave Mia the five, told her to take her tip out of it and to apply the rest to the next person's drink order. Why not make someone else's day a little better, if you can, after all?
On to work.
And that's where I am. Time to chase down info for this project, put out some fires, and just be awesome. Possibly even in that order.
Quote of the Day
I messaged Sara! a little while ago, to see how morning prep with Team DiVa went. This was how that conversation went:
Robert:
Good morning!
I hope that getting under way wasn't too bad…

Sara:
Good morning!
The only big meltdown was when the girls realized that you were already gone for the day and they couldn't give you a hug and a kiss. It was meltdown city.

Robert:
Well, damn. I'm sorry.

Sara:
It was very sweet that they were so upset. It was okay. we sorted it out.

Robert:
Okay.

Sara:
And, we took a rocket ship ride to the moon this morning. Then the rocket ship took me to work. So the astronauts are going to stay on the moon all day, and the rocket ship will pick them up and bring them back to earth tonight.

Robert:
HAHAHAhA that's awesome.

Sara:
Yeah, it was pretty good. DIana wasn't into it this morning (contrast to yesterday) but by the time we were almost to learning tree she was on board looking for planets and aliens. So it turned out okay.
I love those kids and their imaginations.
As I noted above: It's No Bad News Thursday… get out there and attack the day!
Namaste.