arts and leisure, dance, everyday glory
February 12th, 2015

Thursday – 12 February 2015
Last night, I had the pleasure of accompanying Sara! to see Ballet West's performance of Tchaikovsky's Swan Lake.
I saw the 2006 production of Swan Lake, but it was far enough that the details had slipped away from me. Last night's presentation was, to put it simply: Amazing.
We had box seats (stage right), which not only afforded us a fantastic view of the stage, set, dancers and costumes, but also put us above the orchestra pit.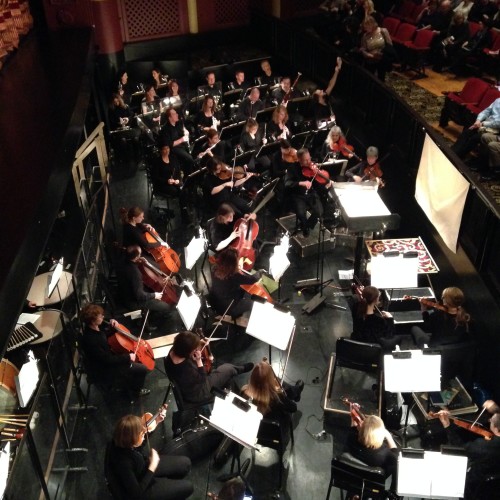 Being able to watch the orchestra as well as the dancers made for an interesting experience – we could see the conductor, Jared Oaks, as he guided the orchestra through Tchaikovsky's work. We were also close enough to see – though not really read – the various instrumentalists' scores. But, the biggest benefit to being so close: We were close to the dancers. We could easily read the expressions on their faces, see many of the fine details of their costumes, and even see the sheen of sweat from their exertions.
The costumes, as I've come to expect from Ballet West's tailors and seamstresses, were exquisite. Our vantage point made it able for us to juxtapose Odette and Odile's costumes. Baron von Rothbart's costumes were as full of menace as the Baron himself. Sara! also keenly pointed out how, despite the uniformity of the swans' costumes, they appaeared "a little different" on each performer.
The company's dancing was fantastic; the dancers moved with a verve that belied what had to be hours of rigorous practice. It was also very evident that the dancers enjoyed what they were doing. I'd also like to point out a few key performances:
Beckanne Sisk was a pleasure to watch in her dual role as Odette and Odile. One of the most captivating things about her performance was how she portrayed the characters. Her Odette, prior to meeting Prince Siegfried, was sad and full of anguish; after meeting him, you could see hope and even desire, tinged with fear of Baron von Rothbart. Her Odile was full of a malevolent glee, toying with the prince's emotions at her father's behest.
Christopher Ruud's Prince Siegfried was similarly multi-faceted. During the 21st birthday celebration, he seemed full of life and joy. After meeting Odette, he exuded a sense of connection and longing. In the third act, when princesses from many lands came seeking his favor, he was forlorn and lost… until Odile, disguised as Odette appeared, when his joy was evident to all (to the chagrin of the visiting princesses – especially the Princess from Spain, performed by Jenna Rae Herrera.) He also clearly exhibited bravery, dread and loss during Act Four.
Christopher Anderson, as Baron von Rothbart, not only conveyed a seething malevolence in his dance, but his makeup and facial expressions brought it – and a measure of dark desire – to the fore, as well. The audience could almost "hear" the schemes and machinations playing out in his head during Act Three.
In all, this production of Swan Lake was a phenomenal treat for the senses. It is easy to understand why it has been performing to (near-) capacity crowds for its run. If you have a chance to see it before the run ends on Sunday, 15 February 2015, I highly recommend doing so.
Leave a Reply
You must be logged in to post a comment.