art, business and economy, comics and animation, computers, Council for Better Driving, dining and cuisine, engagement/wedding/marriage, everyday glory, exhibits, food for thought, games, geekery, history, LEGO and Rokenbok, monkeys!, movies and TV, news and info, the world, trains/model railroads, travel, Whiskey Tango Foxtrot...?!
March 1st, 2011

Tuesday – 01 March 2011
A new month begins.
Today also marks the beginning of Women's History Month.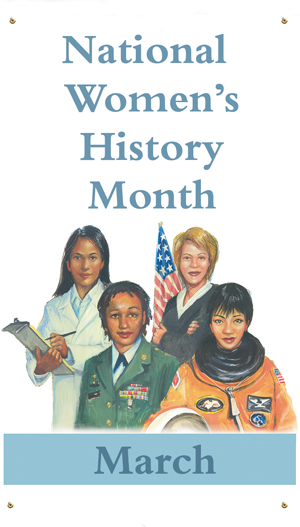 T minus three days to the train show.
T minus sixteen days until Green Lantern/St. Patrick's Day.
Last night was very low-key around the house. SaraRules! fixed soft-shelled tacos and rice for dinner. While eating, we knocked out the last two episodes of NCIS: Los Angeles on the DVR and watched an episode of House Hunters about a couple in Texas. (They were almost as finicky as the couple I posted about a few days ago who were looking for the one-level home.) But, they found a spot they liked.
Tonight, SaraRules! and I are attending Utah Symphony's 2011-12 Season Announcement Reception at Abravanel Hall. (Yeah, I get some pretty swank fringe benefits of having a wife with a cool job.) After that, I'll be dashing off to join ' D&D game. No rest for the wicked, I guess.
Stray Toasters
I finally got robandsara.org back up and running… only to realize that we never posted much after (read: "anything") after the wedding. There's still some fine-tuning to be done, but the pages are there. I'm thinking that I'll be adding content from here (and from some photo galleries) over the next little while to bring it a little more up-to-date.
lj user="gazehound": You'll want to check out some of the images on this page. (Particularly, the third one.)
The following 'toon came from this page on Let's Be Friends Again:

I bought a new van for my railroad layout's Superstreets last night. I should have it in-hand sometime next week, God willin' and the creek don't rise.
This ad…

…somehow reminded me of this:

Dance! Dance! Dance! (And, by the way, Ms. , you might want to check some of these out, as well…)
From the "Whiskey Tango Foxtrot…?!" file: Union Pacific Railroad Billboard Campaign Reminds Truckers to Stop for Trains
Really…? You have to remind drivers of this? Even for non-rocket scientists, the concept of "crash" should be fairly easy to grasp.
She would waste not, not in struggle
No other shall there ever be
And what she is to love, listen oh my brother
Is as the wind to Mercury
Namaste.
Leave a Reply
You must be logged in to post a comment.