art, everyday glory, faith and religion, family and friends, football, games, geekery, movies and TV, office antics, politics and law, style and fashion, Whiskey Tango Foxtrot...?!, zombies
No Comments »

Monday – 11 January 2013
A new week is upon us. 'Nuff said.
This past weekend has been a bit of a whirlwind, but it's also been quite fantastic. Friday night, I had a classmate from high school spend the evening with Sara!, Team DiVa and me: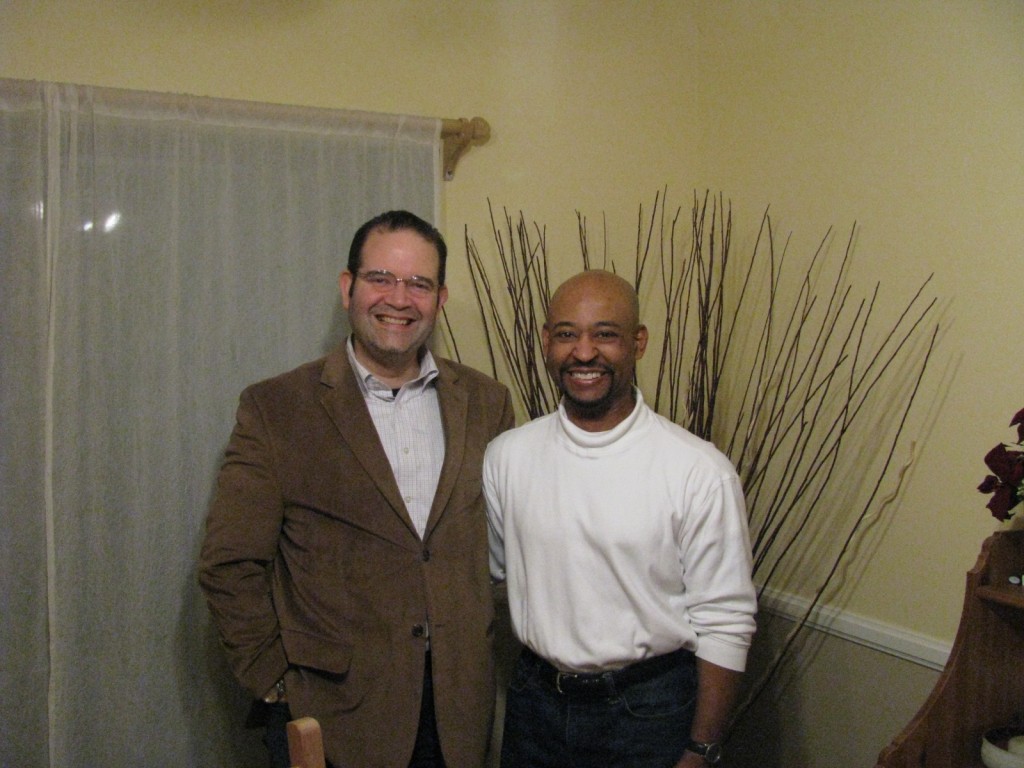 James (above) came  to town a couple of months ago for a conference. Of course, his schedule was ever-so-slightly full, but he was due to come back to town this past week. We determined that we'd try to arrange our schedules so that we could see each other for a while. And we did. And, it was absolutely fantastic to see him.
I did some mental gymnastics and realized that before Friday, I hadn't seen an of my classmates since graduation. Many. Many. Seasons. Past.
Saturday, Sara! had brunch with a friend, so Team DiVa and I spent the morning hanging out. It was a pretty quiet day around the homestead. After the little ladies went to bed, Sara! and I watched Juan of the Dead for Action Movie Saturday: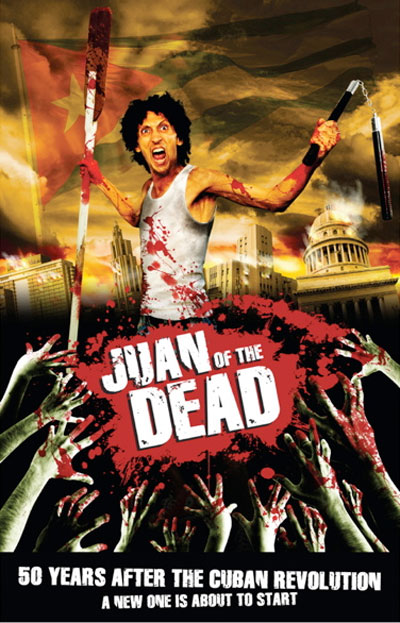 Sara! had mentioned wanting to see this movie a few months ago, as this was apparently the first Cuban zombie film, , but it had fallen off my radar. It showed up in a Netflix envelope a few nights ago and we watched it. And it was worth it.
I'll be honest, I drew more than one comparison to Shaun of the Dead while watching it. There were a number of things that were, indeed, similar. But, there was something that really set the movie apart: The Cuban point of view. That was something that I hadn't expected, for some reason. And that's a shame. Because it framed many/most of the sensibilities of the movie. As Sara! put it:
If you were going to get some of your friends together and make a movie, this is totally the movie that you would make.
And, she's right. And with that recommendation, I recommend it, as well.
Sunday, I had a early morning: I had to be at work at 7:30 for a scheduled server maintenance window. 7:30. AM. On a Sunday. Yeah. And, what made it even better: It snowed Saturday. For the most part, UDoT did a decent job of plowing I-215; I just wish that they had done as solid a job on I-15. But, I made it to work. And the maintenance project went rather hitch-free. And I made it back home without incident. And, on the plus side: My work week is already 5 hours old. That's going to be nice come Friday.
We spent the afternoon in, but had dinner with Sara!'s parents and Uncle Mike, who was in town for the day. Back home to put Team DiVa to bed and then it was time for the new episode of The Walking Dead. And, we even caught some of the Grammy Awards.
Chew on This: Food for Thought – Black History Month
Here are three more people of note:
Judith Jamison – Dancer, choreographer, artistic director.

Born Judith Ann Jamison on May 10, 1943 in Philadelphia, Pennsylvania. She trained early in dance and music and attended the Philadelphia Dance Academy before performing with American Ballet Theatre in 1964. A year later, she moved to New York City to join the Alvin Ailey company and quickly became a principal dancer. Jamison stayed with Alvin Ailey until 1980 and during that time gave several notable performances, including 1967's The Prodigal Prince, 1969's Masekela Language and 1971's Cry, which was a 15-minute solo piece. Audiences also remember 1976's Pas de Duke, a duet with Mikhail Baryshnikov set to the music of Duke Ellington.

After leaving the company to appear in the Broadway musical Sophisticated Ladies, Jamison began choreographing her own works and started the Jamison Project in 1988. A year later, shortly after Ailey's death, Jamison became artistic director of Alvin Ailey American Dance Theater.

Jamison has been the recipient of numerous awards, including the Kennedy Center Honors in 1999 and the National Medal of Arts in 2001. Her autobiography, Dancing Spirit, was published in 1993.

Simmie Knox – Artist

Born on August 18, 1935, in Aliceville, Alabama, leading African American portrait artist Simmie Knox has created vivid, lifelike renderings of such luminaries as President Bill Clinton and U.S. Supreme Court Justice Ruth Bader Ginsburg.Knox is the son of a carpenter and mechanic. But he spent many of his childhood years in the care of other family members after his parents divorced. Knox grew up poor with most of his family working as sharecroppers, and he himself took to the fields when he was old enough. Later Knox went to live with his father and stepmother in Mobile, Alabama. There he loved to make little sketches and to play baseball. One of his childhood friends was baseball legend Hank Aaron. At the age of 13, Knox was struck in the eye with a baseball. With encouragement from his teachers at his Catholic school, he started drawing as a way to help his eye recover from the injury. The nuns who educated him recognized his talent and arranged for him to have lessons from a local postal worker. No formal art education was available at his segregated school.

After graduating from Central High School in Mobile, Alabama, in 1956, Knox spent several years serving in the military. He then attended Delaware State College as a biology major. While he didn't excel at science, Knox did some wonderful sketches of microorganisms. One of his professors recommended that he take some art classes. While at Delaware State, Knox completed a full-sized self-portrait, one of his notable early art works. After completing his studies at the University of Delaware in 1967, Knox enrolled at the Tyler School of Art at Temple University. There, he earned a bachelor degree in fine arts in 1970 and a master's degree in fine arts two years later. At the time, abstract art was all the rage. Knox painted in this style for a time and even got the chance to display his works at a prominent Washington, D.C. gallery. His paintings hung alongside Roy Lichtenstein and other leading artists in this show.

Still Knox wasn't completely satisfied with his abstract work. He painted a portrait of freed slave and prominent abolitionist Frederick Douglass in 1976, which now part of the collection at the Smithsonian Institution. In addition to painting, Knox worked extensively in art education. He held many teaching positions, including being an instructor at the Duke Ellington School of the Arts from 1975 to 1980.

By the early 1980s, Knox had devoted himself to realistic portrait work. He explained to The New York Times, "With abstract painting, I didn't feel the challenge. The face is the most complicated thing there is. The challenge is finding that thing, that makes it different from another face." Knox found a famous patron in 1986 when he met comedian Bill Cosby. Cosby became an ardent supporter of Knox's work, hiring for portraits of himself and his family. He also encouraged friends to commission Knox for paintings as well.

Knox soon landed an important assignment: to capture the image of legendary U.S. Supreme Court Justice Thurgood Marshall. Marshall "could tell I was nervous," Knox told American Artist magazine, adding, "But he told jokes; he told stories about his life. I came away feeling so good about the man." He completed Marshall's portrait in 1989 and continued to receive new commissions. Over the years, Knox painted the likeness of baseball great Hank Aaron, former New York City mayor David Dinkins, historian John Hope Franklin and Supreme Court Justice Ruth Bader Ginsburg among other famous names.

In 2000, Knox received his most famous assignment to date. He was selected to paint the official White House portraits of President Bill Clinton and First Lady Hillary Clinton. With this commission, Knox made history. "I realize there has never been an African American to paint a portrait of a president and, being the first, that's quite an honor and quite a challenge," he told ABC News. Knox and Bill Clinton bonded over a shared love of jazz.

Knox's paintings of the Clintons were revealed to the public in a special ceremony at the White House in 2004.Knox works out of his studio—a former garage—at his home in Silver Spring, Maryland. He and his wife Roberta have two children together, Amelia and Zachary. Knox also has a daughter, Sheri, from his first marriage.

Alain Locke – Writer, philosopher, educator

Alain Locke was born in Philadelphia, Pennsylvania on September 13, 1885 to Pliny Ishmael Locke (1850–1892) and Mary Hawkins Locke (1853–1922). In 1902, he graduated from Central High School in Philadelphia, second in his class. 


In 1907, Locke graduated from Harvard University with degrees in English and philosophy. He was the first African-American Rhodes Scholar. He formed part of the Phi Beta Kappa Society. Locke was denied admission to several Oxford colleges because of his race before finally being admitted to Hertford College, where he studied literature, philosophy, Greek, and Latin, from 1907–1910. In 1910, he attended the University of Berlin, where he studied philosophy.

Locke received an assistant professorship in English at Howard University, in Washington, D.C. While at Howard University, he became a member of Phi Beta Sigma fraternity.

Locke returned to Harvard in 1916 to work on his doctoral dissertation, The Problem of Classification in the Theory of Value. In his thesis, he discusses the causes of opinions and social biases, and that these are not objectively true or false, and therefore not universal. Locke received his PhD in philosophy in 1918. Locke returned to Howard University as the chair of the department of philosophy, a position he held until his retirement in 1953.

Locke promoted African-American artists, writers, and musicians, encouraging them to look to Africa as an inspiration for their works. He encouraged them to depict African and African-American subjects, and to draw on their history for subject material. Locke edited the March 1925 issue of the periodical Survey Graphic, a special on Harlem and the Harlem Renaissance, which helped educate white readers about its flourishing culture. Later that year, he expanded the issue into The New Negro, a collection of writings by African Americans, which would become one of his best known works. His philosophy of the New Negro was grounded in the concept of race-building. Its most important component is overall awareness of the potential black equality; no longer would blacks allow themselves to adjust themselves or comply with unreasonable white requests. This idea was based on self-confidence and political awareness. Although in the past the laws regarding equality had been ignored without consequence, Locke's philosophical idea of The New Negro allowed for fair treatment. Because this was an idea and not alaw, its power was held in the people. If they wanted this idea to flourish, they were the ones who would need to "enforce" it through their actions and overall points of view. Locke has been said to have greatly influenced and encouraged Zora Neale Hurston.
Stray Toasters
I need to log into either DCUO or STO and get some gaming in…
Masters of Teras Kasi
I should probably post this before I forget. Again. For another two hours.
Namaste.