books, comics and animation, event, everyday glory, family and friends, geekery, movies and TV, music, travel
No Comments »

Tuesday – 15 July 2014 Thursday – 24 July 2014
A new week is upon us now two days old.
An even newer week is upon us… and is almost over.
That's right, this is a post that's been so delayed and off-put that it's taken over a week to complete. I'm just going to leave the core of the original post in place and just append the newest additions to the end of it. Because I can.
Tw0 weekends past This was a good weekend. We kicked it off Friday evening with the Deer Valley Music Festival – Utah Symphony performed the music of John Williams. And, as if they knew that I was in the audience, they opened the concert with Superman March. The concert wasn't solely Williams' music;  Team DiVa even heard a song that they recognized: On the Beautiful Blue Danube, which they know from their Classical Baby DVDs. After the concert and after the girls were in bed, I played 'Clix with coworker Adam… until the wee hours of the morning.
Which made for a short sleep cycle on Saturday, as little girls bounded into our room before 8 AM. I spent the better part of the day with them, as it was Sara!'s Saturday to play. This included letting them watch The Lion King... which lead to Vanessa singing I Just Can't Wait To Be King Begin.
All. Night. Long.
It was more funny than annoying.
That Sunday, we got up and went to breakfast at Millcreek Cafe and Eggworks. Then it was off to run a few errands and then back home to get ready for our annual ice cream social. This year, we had more kids than we have in the past. We also prepared for this with: Ice cream cones! I am happy to report that the cones were not only a hit, but were utilized with minimal spillage!
Ten days ago Yesterday was Monday. 'Nuff said.
This past weekend, we headed up to Idaho to celebrate Sara!'s grandmother's 90th birthday, which was actually last November. But, as it fell right before the holidays, the family decided to hold off until (nearly) everyone would be available to convene and celebrate it. So, this summer was chosen as the "when" and central Idaho was chosen as the "where."
I like traveling. Granted, I haven't done a lot of it in the past few years, but I do enjoy it. With toddlers being added to the mix, there are things that you learn and accommodations that must be made in travel arrangements. Things like: Potty breaks. Before children, pit stops and bathroom breaks only occurred once every couple of hours, if that often. With kids who are on the tail-end of potty training, these breaks become more of an "ad-hoc" thing. And the ad-hoc can be pretty damned often. Case in point:
Sara and I have made the same trip, before kids, in a little over five hours.
This trip (to Idaho, at least) took roughly 7.5 hours, including six (6) bathroom stops – a couple of which I don't even want to talk about – and a stop for dinner.
The trip back was about six hours – with only one stop for a potty emergency.
The trip itself was fun, though brief. We got in late Friday evening; Sara! scored us wonderful accommodations, via AirBnB. We stayed in what was effectively a mother-in-law apartment of a home overlooking the Salmon River — the river was about 50′ from our bedroom patio door: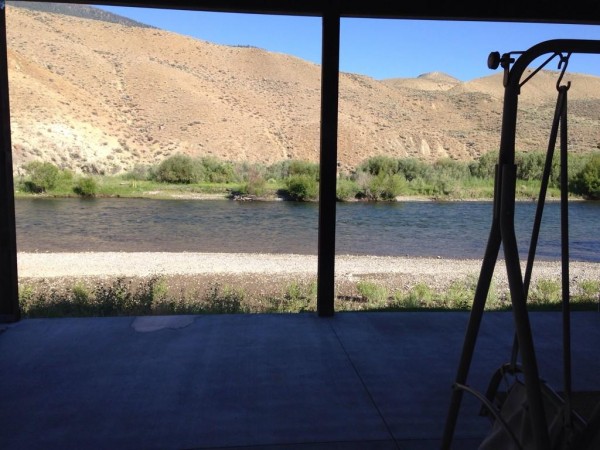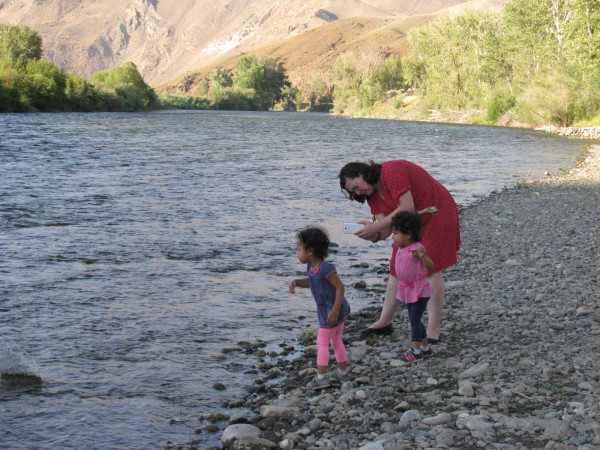 This also offered Team DiVa the opportunity to throw rocks into the river, which they did with great aplomb.
Saturday, we spent the day with the family – aunts, uncles, cousins, kith an kin. And Sara's  grandmother, of course.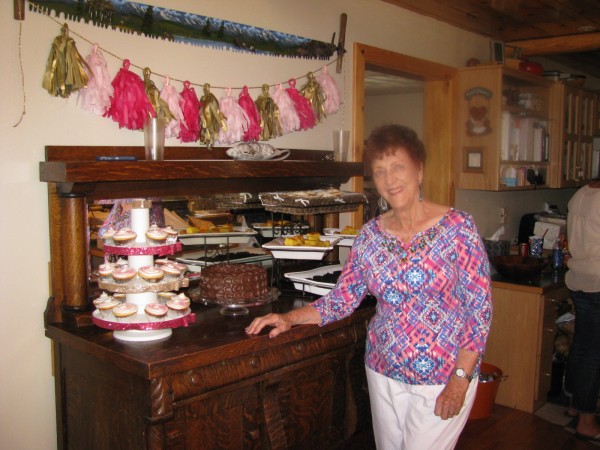 Sara made a quilt for the occasion, with hand-signed/stamped/imprinted pieces from everyone  – except the newest addition (within the past few months) – in the family: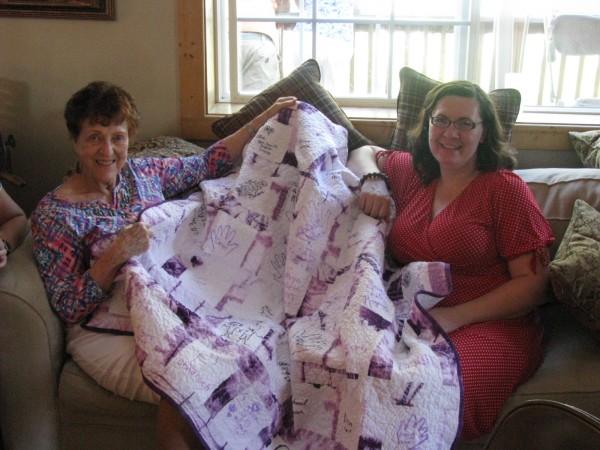 It was nice to have a chance to visit with everyone. That evening, we headed back to the apartment to put the girls to bed (well past their usual bedtime). Sunday morning, we woke up, got dressed, packed and hit the road… back into town, for breakfast. We ate at the Tea Cup Cafe & Bakery. It was an unexpectedly refreshing place. And, I would have to agree with the high ratings on Yelp.
On the way back to SLC, we stopped in Arco, ID. Why? Because there's a submarine sail there. Why? Okay, that one, I can't really answer.
After that, we stopped at EBR-1 for the Team DiVa's first nuclear power plant field trip.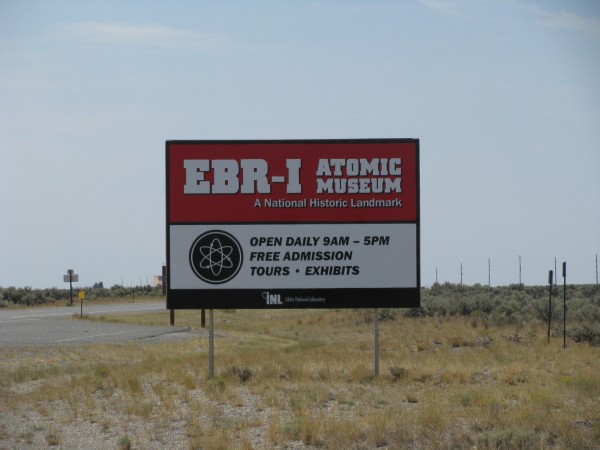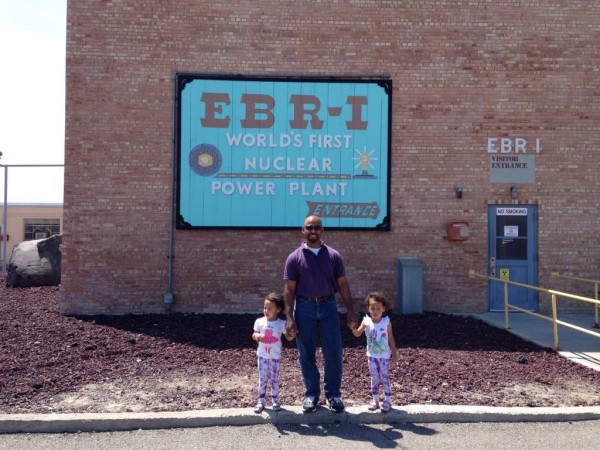 No, it didn't trigger any latent X-genes or metagenes. Unfortunately. They had a ball. We made it back home without too much incident.
Stray Toasters
Today is Pioneer Day in Utah.
Today is also National Tequila Day.
I find it highly amusing that the two fall on the same day.
On a recent trip to the party supply store, we bought superhero masks for the girls, in four different colors. Why? To keep them from stealing mine. Because they liked them. Earlier this week, they decided to wear them in the car on their way to day care.

Sara! asked who they were.
Diana (green mask) said, "Green Lantern!"  (Yeah, definitely my kid.)
Vanessa (blue mask): "Somersault!"
(Backstory: A couple days ago, their Aunt Jen was teaching them to do somersaults in the back yard. I guess it made something of an impression.)
I finished listening to

Stranger in a Strange Land

last week; it was the first time I've read/listened to the book in at least ten years. I read something recently that posited that Jubal Harshaw, not Valentine Michael Smith, was actually the protagonist of the book. Looking back, I can see some validity to that argument.
Plum Stitch. If you haven't been there, go now. I'll wait right here until you get back.
I introduced the girls to Smashmouth's Walking on the Sun this morning last week. It went over well.
Coworker Brad and I have been recasting movies and TV shows today. It's helped to make the day pass rather quickly.
I've found that watching My Little Pony: Friendship Is Magic with the girls isn't so bad.
What 

is

 bad: When the vershluggen theme song pops into your head as an earworm.
One week 'til Guardians of the Galaxy. Tickets have been acquired.
That's all. For now.
Namaste.