business and economy, comics and animation, computers, dining and cuisine, everyday glory, family and friends, games, geekery, history, hockey, LEGO and Rokenbok, movies and TV, music, science and technology, style and fashion, trains/model railroads, travel
No Comments »

Sunday – 03 April 2011
It's snowing.
I figured I'd get that one out of the way, right off the bat. It started last night, before I went to bed, so I'm estimating that we have three to six inches of the stuff on the ground. I'll do a measurement later, when I go out to shovel the driveway.
It's been a good weekend. Friday, I had brunch with at The Park Cafe. The food and the atmosphere were both good. From there, I stopped at The Train Shoppe for a minute; I needed to inquire about a problem that I am having with the couplers on one of my locomotives. Randy told me that it was a pretty fast and easy fix. Armed with that knowledge, I headed out. I took Defiant back to Expercom. They installed the new PRAM battery and the new top case… and it was less expensive than they'd originally quoted me. So, I once again have a fully-operational Death Star BlacBook. Later in the evening, SaraRules! and I skipped meeting the usual suspects for Clitorati and, instead, went to a Utah Grizzlies hockey game. The game was good, although the Grizzlies lost. (My guess is that since they'd already locked up a playoff berth, they: A) didn't have anything to prove and B) didn't want their players to get injured.)
Saturday, I met Chris for breakfast and then we headed up to Dr. Volt's for this weekend's HeroClix tournament. There was a decent turn-out — nine players, so I played the bye rounds. Dr. Volt's also hosted a book signing with Valerie Finnigan, one of the authors of Untold Stories from Iraq and Afghanistan. After our tournament was over, I had the opportunity to speak with Valerie for a bit. She was a charming woman with a few interesting story to tell. (Jeremiah also did an interview with her.) I got back home and tried to figure out what I wanted for dinner. SaraRules! to the rescue! She suggested Famous Dave's Barbecue. So was it done. And it, too, was good. And very filling. After that, we came home and assembled a LEGO airplane that I got for Christmas. (Hey, some people do puzzles together; we assemble LEGO toys.)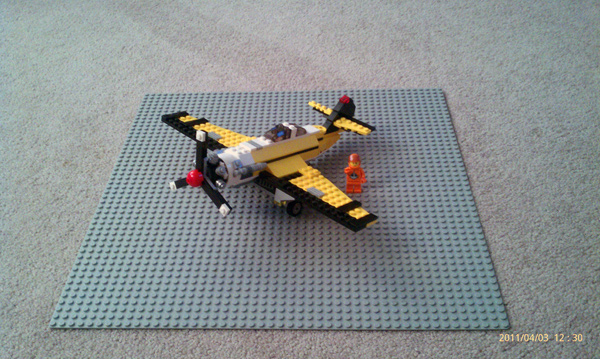 Pictured here, with LEGO Universe Astronaut
Next, we watched (500) Days of Summer. Good movie. Not quite what I expected, but it was rather enjoyable… and a bit quirky.
Stray Toasters
According to Google, today marks the "119th Anniversary of the First Recorded Ice Cream Sundae"

This is one way to get down stairs, I guess…
By way of Christopher M.: Wall of Sound: The iPod has changed the way we listen to music. And the way we respond to it.
Today is a good day for getting in some DCUO or LEGO Universe… or both!
Namaste.