comics and animation, everyday glory, geekery, the best, toys
No Comments »

Friday – 23 December 2016
There are many things that make for a "good day." The fact that today is Christmas Eve Eve is one. The fact that our office is closed – meaning a long weekend – is another. Other things include, but are not limited to:
Coffee. (If I have to explain this one, we may need to reevaluate our friendship…)

Making a new #morningcoffee post with The Incredibles.

Sleeping in – technically "going back to bed after Sara and Team DiVa headed out for the day," but you get the gist.
Chatting with friends and family.
Reading comics.
I'll even throw "going to the gym" (happening shortly) in there, too.
But, one of the other things that made to day really stand out was receiving an email. More specifically, receiving an email saying that I was having a package delivered. After all, who doesn't like getting packages? And, especially at Christmastime? Turns out the package was from Sideshow Collectibles. Let me backtrack a bit…
::: Scooby Doo flashback wavy lines :::
Last month, Sideshow tweeted about a contest they were having: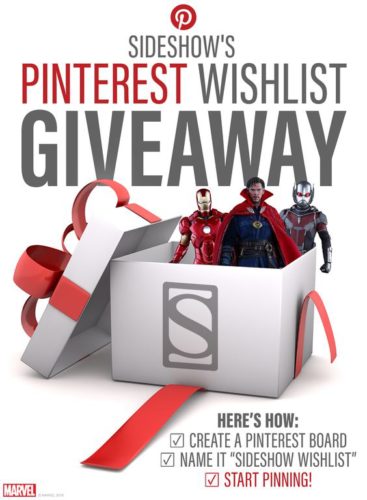 Seemed simple and reasonable enough: Make a board, throw pins on it, hope to win something. And that's exactly what I did – I selected nineteen figures and statues and cast my lot to the wind. Granted, they have "a few thousand" followers on Pinterest, so I wasn't really expecting anything to come of it. Fast forward last Friday, I received this message
Hi Rob! We'd like to fulfill your wish for a Green Lantern Sixth Scale figure. Email [redacted] to claim your wish. Happy holidays!
Anyone who has known me for more than about six minutes knows that I'm "a bit" of a Green Lantern fan. Sure, I'm more John Stewart than Hal Jordan these days, but Hal is the GL I grew up with and I have absolutely nothing against him. And there's that whole "gift horses" thing, too.
I replied to the message and waited. There was a snafu with email, checking to find out what information they needed to ship it, which wasn't resolved until earlier this week. Given that and knowing what I do about shipping packages around the holidays, I wasn't sure when it would show up.
::: end flashback :::
A little after 11:30, the doorbell rang. It was my friendly, neighborhood Spider-Man UPS driver. Lo and behold, he had the box from Sideshow. I grinned like a fiend, signed, and thanked him. (I do not recall if there was a "My precious…." in there or not. I hope not, as that would be more-than-slightly embarrassing…) I brought the box downstairs, opened it, and this is what was inside:
Let's just say that my day and Christmas weekend has gotten off to a great start and many thanks to Sideshow Collectibles.
Okay, enough lollygagging. Time to get right on to the friction of the day…
Namaste.