computers, everyday glory, geekery, office antics, Whiskey Tango Foxtrot...?!
No Comments »

Friday – 14 October 2016
This morning, I came into work a couple hours early, so I could leave early and check out a ballet rehearsal. There were… issues… so, the ballet became a non-factor in my day.
::: fast forward a few hours :::
While on call with my manager and my east coast counterpart, a question about a maintenance repair on a server came up: We contacted our support company a couple of days ago to schedule service a server and drive array (Aw yeah, Titans! warranty repair!). The parts arrived today, but there was no word about the tech who was supposed to facilitate the repair.
For the rest of the story, please deposit 25¢ , I will copy the email I just sent to my coworker and boss:
1. Called [provider] to follow-up on tech dispatch – he was assigned the Incident, but waiting for the parts to be delivered. I asked to have the appointment sceheduled for Monday morning and hung up the phone.

2. Got a call from the receptionist's desk… telling me that [tech] was here now.

3. [Tech] went in to start working on the server and arrays… only to find that they sent the wrong drives.
a. He changed the battery in the server
b. He's shipping back the SSDs and requesting the proper SAS drives.

WHEEE!
And that's how my day has gone, so far. Good thing it's (almost) over.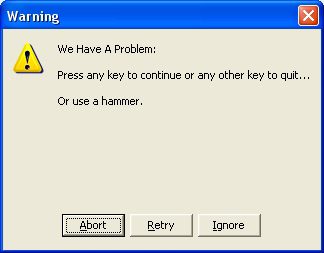 #LifeInIT #ajobaintnuthinbutwork #TGIF
Namaste.