art, boxing, comics and animation, Council for Better Driving, environment, event, everyday glory, history, movies and TV, space, Whiskey Tango Foxtrot...?!
February 1st, 2013

Friday – 01 February 2013
Not only is the weekend nearly upon us…
…but it's also the start of a new month.
And with the start of February comes the start of Black History Month.

Once again, I'm going to go through more "ABC's of Black History." So sit back and learn a little somethin'.
Chew on This: Food For Thought – Black History Month
Today, we start with "The Greatest," Muhammad Ali.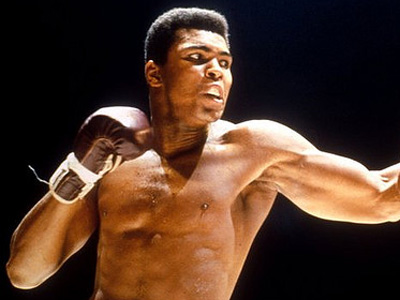 Muhammad Ali (born Cassius Marcellus Clay, Jr.; January 17, 1942) is an American former professional boxer, philanthropist and social activist. Considered a cultural icon, Ali has both been idolized and vilified.

Cassius Marcellus Clay, Jr., was born in Louisville, Kentucky. The older of two boys, he was named after his father, Cassius Marcellus Clay, Sr. His father painted billboards and signs, and his mother, Odessa O'Grady Clay, was a household domestic. Although Cassius Sr. was a Methodist, he allowed Odessa to bring up both Cassius and his younger brother Rudolph "Rudy" Clay (later renamed Rahman Ali) as Baptists.
Clay was first directed toward boxing by Louisville police officer and boxing coach Joe E. Martin, who encountered the 12-year-old fuming over a thief taking his bicycle. He told the officer he was going to "whup" the thief. The officer told him he better learn how to box first. Clay won six Kentucky Golden Gloves titles, two national Golden Gloves titles, an Amateur Athletic Union National Title, and the Light Heavyweight gold medal in the1960 Summer Olympics in Rome. Clay's amateur record was 100 wins with five losses.
Clay made his professional debut on October 29, 1960, winning a six-round decision over Tunney Hunsaker. From then until 1963, Clay amassed a record of 19-0 with 15 wins by knockout. He defeated boxers including Tony Esperti, Jim Robinson, Donnie Fleeman, Alonzo Johnson, George Logan, Willi Besmanoff, Lamar Clark, Doug Jones and Henry Cooper.
Ali had amassed a record of 19–0, with 15 knockouts and became the top contender for Sonny Liston's title. The fight was set for February 25, 1964 in Miami. Despite his record, the Ali was a 7-1 underdog. During the weigh-in on the day before the bout, the ever-boastful Clay, who frequently taunted Liston during the buildup by dubbing him "the big ugly bear" (among other things), declared that he would "float like a butterfly and sting like a bee," and, summarizing his strategy for avoiding Liston's assaults, said, "Your hands can't hit what your eyes can't see." Clay and Liston fought for six rounds in their first title fight, with Clay dominating most of the rounds, except in round four when it was alleged Clay had trouble seeing due to a substance in his eyes. Despite Liston's attempts to knock Clay out in the fifth, Clay was able to escape Liston's offense until sweat and tears rinsed the substance from his eyes, leading to Clay to respond back with a flurry of combinations near the end of the fifth round. During the sixth round, Clay dominated Liston throughout. When Liston refused to answer the bell for the seventh round, Clay was declared the winner. Liston would later claim he had injured his shoulder. Following the win, a triumphant Clay rushed to the press stands, pointing to them and screaming "I fooled you!" During the now-infamous in-ring interview following the match, Clay shouted "I shook up the world!" and "I must be 'The Greatest'!" When Clay won, he became the youngest boxer to take the title from a reigning heavyweight champion at just 22.
Clay, now having changed his name to Muhammad Ali following his conversion to Islam, and Liston met up for their rematch in May the following year. Midway through the first round, Liston was knocked down by one of Ali's punches, later dubbed by the press as the "phantom punch". Referee Jersey Joe Walcott stopped the match shortly afterwards and Ali was declared the winner around 1:52 of the first round.
In 1967, three years after Ali had won the heavyweight championship, he was publicly vilified for his refusal to be conscripted into the U.S. military, based on his religious beliefs and opposition to the Vietnam War. Ali was eventually arrested and found guilty on draft evasion charges; he was stripped of his boxing title, and his boxing license was suspended. He was not imprisoned, but did not fight again for nearly four years while his appeal worked its way up to the U.S. Supreme Court, where it was eventually successful.
Ali would go on to become the first and only three-time lineal World Heavyweight Champion.
Nicknamed "The Greatest", Ali was involved in several historic boxing matches. Notable among these were three with rival Joe Frazier, which are considered among the greatest in boxing history, and one with George Foreman, where he finally regained his stripped titles seven years later. Ali was well known for his unorthodox fighting style, epitomized by his catchphrase "float like a butterfly, sting like a bee", and employing techniques such as the Ali Shuffle and the rope-a-dope. Ali brought beauty and grace to the most uncompromising of sports and through the wonderful excesses of skill and character, he became the most famous athlete in the world. He was also known for his pre-match hype, where he would "trash talk" opponents, often with rhymes.
Ali was diagnosed with Parkinson's syndrome in 1984, a disease that is common to head trauma from activities such as boxing. Ali still remained active during this time, however, later participating as a guest referee in the inaugural WrestleMania event. Ali's other high profile events during this time included being selected by the California Bicentennial Foundation for the U.S. Constitution to personify the vitality of the U.S. Constitution and Bill of Rights around 1987. Ali rode on a float at the following year's Tournament of Roses Parade, launching the U.S. Constitution's 200th birthday commemoration. He published an oral history, Muhammad Ali: His Life and Times by Thomas Hauser, in 1991. That same year Ali traveled to Iraq during the Gulf War and met with Saddam Hussein in an attempt to negotiate the release of American hostages. In 1996, he had the honor of lighting the flame at the 1996 Summer Olympics in Atlanta, Georgia.
In 1999, Ali was crowned "Sportsman of the Century" by Sports Illustrated and "Sports Personality of the Century" by the BBC.
Ali's bout with Parkinson's led to a gradual decline in Ali's health though he was still active into the early years of the millennium, even promoting his own biopic, Ali, in 2001. On November 17, 2002, Muhammad Ali went to Afghanistan as "U.N. Messenger of Peace". He was in Kabul for a three-day goodwill mission as a special guest of the UN.

In 2009, Ali visited Ennis, the ancestral site of his great-grandfather before he emigrated to the U.S. in the 1860s, before eventually settling in Kentucky. Ali later received the honour of freedom at a civic reception in Ennis. He also became a freeman at Ennis, Co Clare, Ireland. On July 27, 2012, Ali was a titular bearer of the Olympic Flag during the opening ceremonies of the 2012 Summer Olympics in London. He was helped to his feet by his wife Lonnie to stand before the flag due to his Parkinson's rendering him unable to carry it into the stadium.

reference: Wikipedia
Stray Toasters
So get out there and rock,
And roll the bones.
Get busy!
Namaste.
Leave a Reply
You must be logged in to post a comment.