art, business and economy, computers, event, everyday glory, exhibits, family and friends, games, health, history, movies and TV, politics and law, the world
February 24th, 2012

Friday – 24 February 2012
It's (finally) the end of the week. It's my working Friday, but it's also the quiet day in the office; this isn't to say that the day hasn't been productive.
Of even more importance: The twins slept through the night again! And… *drumroll* … for the second consecutive night! I'm not necessarily expecting them to do so again tonight, but I wouldn't be averse to it.
SaraRules! and I postponed Wednesday's Pasta & Movie Date Night until last night. It was SaraRules!' night to choose a movie. She picked Spike Lee's She's Gotta Have It. We had long talked about watching all of Spike Lee's movies, in order, but hadn't done anything about it… until last night. And it was good, especially for his first outing.
Chew on This: Food for Thought – Black History Month
Today's person of note is Llewellyn Xavier, artist.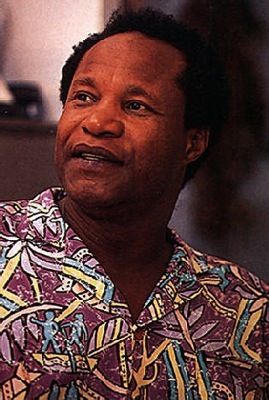 Llewellyn Xavier OBE was born in Saint Lucia on October 12, 1945
Xavier left Saint Lucia for Barbados in 1961, working as an agricultural apprentice for a time. A friend gave him a box of watercolors, and he was soon drawn to art. His first exhibition was a great success, and soon his reputation was established. In 1968, Xavier moved to England, where he became a pioneer in the field of mail art. He enrolled in the school of the Museum of Fine Arts, Boston, in 1979, and for a time was a Cistercian monk in Montreal. After a time, he left the monastery, marrying and returning to Saint Lucia in 1987.
Probably Xavier's most important work to date is a large cycle of collages. His intense concern for the environment led to his masterpiece, Global Council for Restoration of the Earth's Environment; it was first shown at the Patrick Cramer Gallery in Geneva in May of 1993. The collages incorporate all manner of recycled materials, including naturalist prints from the eighteenth and nineteenth centuries and postage stamps from many countries. They also include signatures of various world leaders of environmentalism and of a number of conservationists.
Xavier received the OBE in 2004 in recognition of his contributions to the art of the Commonwealth. His most recent series to date, also of collages, is titled Environment Fragile, and is meant to call attention to the destruction of the environment; he has sent pieces from the series to various dignitaries around the world.
Xavier's work is in the collection of the Metropolitan Museum of Art, the American Museum of Natural History, and the Smithsonian Institution as well as in various European museums.
Stray Toasters
Leave a Reply
You must be logged in to post a comment.