cars, comics and animation, education, environment, everyday glory, food for thought, history, music, politics and law, style and fashion, the world, Whiskey Tango Foxtrot...?!, zombies
February 8th, 2013

Friday – 08 February 2013
It's (almost) the weekend.
This evening, I'll be getting together with a high school classmate for dinner. If memory serves, we haven't seen each other since graduation… many moons ago.
Chew on This: Food for Thought – Black History Month
Today's person of note: Zora Neale Hurston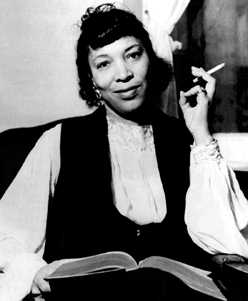 Zora Neale Hurston (January 7, 1891 – January 28, 1960) was an American folklorist, anthropologist, and author during the time of the Harlem Renaissance. Of Hurston's four novels and more than 50 published short stories, plays, and essays, she is best known for her 1937 novel Their Eyes Were Watching God.
Hurston was the daughter of two former slaves. Her father, John Hurston, was a pastor, and he moved the family to Florida when Hurston was very young. She was born in Notasulga, Alabama, where her father grew up and her grandfather was the preacher of a Baptist church. Her family moved to Eatonville, Florida, one of the first all-Black towns to be incorporated in the United States, when she was three. Hurston said she always felt that Eatonville was "home" to her and sometimes claimed it as her birthplace. Her father later became mayor of the town, which Hurston would glorify in her stories as a place where African Americans could live as they desired, independent of white society. In 1901, some northern schoolteachers visited Eatonville and gave Hurston a number of books that opened her mind to literature, and this may be why she sometimes describes her "birth" as taking place in that year.
In 1904, Hurston's mother died and her father remarried, to Matte Moge. Hurston's father and new stepmother sent her away to a boarding school in Jacksonville, Florida, but they eventually stopped paying her tuition and the school expelled her. She later worked as a maid to the lead singer in a traveling Gilbert & Sullivan theatrical company. In 1917, Hurston began attending Morgan Academy, the high school division of the historically African-American Morgan College in Baltimore, Maryland. It was at this time, and apparently to qualify for a free high-school education (as well, perhaps to reflect her literary birth), that the 26-year-old Hurston began claiming 1901 as her date of birth. She graduated from Morgan Academy in 1918.
To support herself and finance her efforts to get an education, Hurston worked a variety of jobs, including as a maid for an actress in a touring Gilbert and Sullivan group. In 1920, Hurston earned an associate degree from Howard University. She published one of her earliest works in the university's newspaper. A few years later, she moved to New York City's Harlem neighborhood, where she became a fixture in the area's thriving art scene.
In 1921, she wrote a short story, John Redding Goes to Sea, which qualified her to become a member of Alaine Locke's literary club, The Stylus. Hurston left Howard in 1924 and in 1925 was offered a scholarship to Barnard College, Columbia University where she was the college's sole black student. Hurston received her B.A. in anthropology in 1927, when she was 36. While she was at Barnard, she conducted ethnographic research with noted anthropologist Franz Boas of Columbia University. She also worked with Ruth Benedict as well as fellow anthropology student Margaret Mead. After graduating from Barnard, Hurston spent two years as a graduate student in anthropology at Columbia University.

Living in Harlem in the 1920s, Hurston befriended the likes of Langston Hughes and Countee Cullen, among several others. Her apartment, according to some accounts, was a popular spot for social gatherings. Around this time, Hurston experienced a few early literary successes, including placing in short-story and playwriting contests in Opportunity magazine.
In the mid-1930s, Hurston explored the fine arts through a number of different projects. She worked with Langston Hughes on a play called Mule-Bone: A Comedy of Negro Life—disputes over the work would eventually lead to a falling out between the two writers—and wrote several other plays, including The Great Day and From Sun to Sun.
Hurston released her first novel, Jonah's Gourd Vine, in 1934. She also established a school of dramatic arts "based on pure Negro expression" at Bethune-Cookman University (at the time, Bethune-Cookman College) in Daytona Beach, Florida.Two years later, she received a Guggenheim fellowship, which allowed her to work on what would become her most famous work: Their Eyes Were Watching God (1937). She wrote the novel while traveling in Haiti, where she also studied local voodoo practices. That same year, Hurston spent time in Jamaica conducting anthropological research.
In 1942, Hurston published her autobiography, Dust Tracks on a Road. This personal work was well-received by critics, but her life and career soon began to falter. Hurston was charged with molesting a 10-year-old boy in 1948; despite being able to prove that she was out of the country at the time of the incident, she suffered greatly from this false accusation.
Despite all of her accomplishments, Hurston struggled financially and personally during her final decade. She kept writing, but she had difficulty getting her work published. Additionally, she experienced some backlash for her criticism of the 1955 U.S. Supreme Court decision in Brown v. Board of Education, which called for the end of school segregation.
In 1956 Hurston was bestowed the Bethune-Cookman College Award for Education and Human Relations in recognition of her vast achievements, and the English Department at Bethune-Cookman College remains dedicated to preserving her cultural legacy.
A few years later, Hurston had suffered several strokes and was living in the St. Lucie County Welfare Home. The once-famous writer and folklorist died poor and alone on January 28, 1960, and was buried in an unmarked grave in Fort Pierce, Florida.
More than a decade later, another great talent helped to revive interest in Hurston and her work: Alice Walker wrote about Hurston in the essay "In Search of Zora Neale Hurston," published in Ms.magazine in 1975. Walker's essay helped introduce Hurston to a new generation of readers, and encouraged publishers to print new editions of Hurston's long-out-of-print novels and other writings. In addition to Walker, Hurston heavily influenced Toni Morrison and Ralph Ellison, among other writers.
reference: Biography.com and Wikipedia
Stray Toasters
The Walking Dead returns to the air Sunday night. This is good, I now have something to watch on Sundays since  we have six months until football returns…
Why Americans Became Obsessed With Ninjas
Um, short answer: "Because they are ninjas. Duh."
From the "YeahbuhWHAT?!?" files:
Namaste.
Leave a Reply
You must be logged in to post a comment.