books, comics and animation, computers, event, everyday glory, football, games, geekery, history, kids, LEGO and Rokenbok, movies and TV, music, Whiskey Tango Foxtrot...?!
February 2nd, 2013

Saturday – 02 February 2013
It's Groundhog Day.
(Just so you know, there won't be a guest post by Bill Murray or Andie MacDowell. Sorry.)
It's the weekend. Hallelujah. It hasn't been a bad week, but with Team DiVa not sleeping well (due to their colds), Sara! and I haven't been sleeping well. Or, rather, our sleep has been broken and not as restful as it could be.
Chew on This: Food for Thought – Black History Month
Today's person: Julian Bond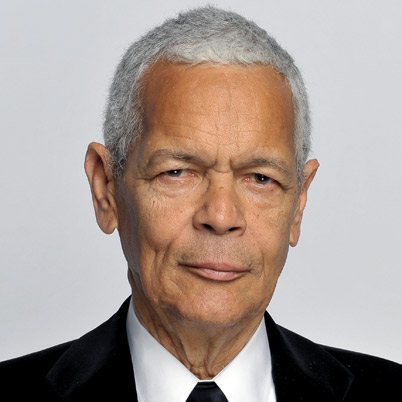 Horace Julian Bond (born January 14, 1940), known as Julian Bond, is an American social activist and leader in the American civil rights movement, politician, professor, and writer. Bond was born in Nashville, Tennessee, to the former Julia Agnes Washington and Horace Mann Bond.
In 1960, Bond was a founding member of the Student Nonviolent Coordinating Committee (SNCC) and served as its communications director from 1961 to 1966. From 1960 to 1963, he led student protests against segregation in public facilities in Georgia. Bond left Morehouse College in 1961 and returned to complete his BA in English in 1971 at age 31. With Morris Dees, Bond helped found the Southern Poverty Law Center (SPLC), a public-interest law firm based in Montgomery, Alabama. He served as its president from 1971 to 1979. Bond continues on the board of directors of the SPLC.
In 1965, Bond was one of eight African Americans elected to the Georgia House of Representatives after passage of civil rights legislation, including the Voting Rights Act of 1965. On January 10, 1966, however, Georgia state representatives voted 184-12 not to seat him because he publicly endorsed SNCC's policy regarding opposition to U.S. involvement in the Vietnam War. They disliked Bond's stated sympathy for persons who were "unwilling to respond to a military draft". A federal District Court panel ruled 2-1 that the Georgia House had not violated any of Bond's federal constitutional rights. In 1966, the United States Supreme Court ruled 9-0 in the case of Bond v. Floyd (385 U.S. 116) that the Georgia House of Representatives had denied Bond his freedom of speech and was required to seat him. From 1967 to 1975, Bond was elected for four terms as a Democratic member in the Georgia House. There he organized the Georgia Legislative Black Caucus.
In January 1967, Bond was among eleven House members who refused to vote when the legislature elected segregationist Lester Maddox of Atlanta as governor of Georgia over the Republican Howard Callaway, who had led in the 1966 general election by some three thousand votes. The choice fell on state lawmakers under the Georgia Constitution of 1824 because neither major party candidate had polled a majority in the general election. Former Governor Ellis Arnall polled more than fifty thousand votes as a write-in cadidate, a factor which led to the impasse. Bond would not support either Maddox or Callaway though he was ordered to vote by lame duck Lieutenant Governor Peter Zack Geer.

He went on to be elected for six terms in the Georgia Senate in which he served from 1975 to 1987.
During the 1968 presidential election, Bond led an alternate delegation from Georgia to the Democratic National Convention in Chicago. There, unexpectedly and contrary to his intention, he became the first African American to be proposed as a major-party candidate for Vice President of the United States. While expressing gratitude for the honor, the 28-year-old Bond quickly declined, citing the constitutional requirement that one must be at least 35 years of age to serve in that office.
Bond resigned from the Georgia Senate in 1987 to run for the United States House of Representatives from Georgia's 5th congressional district. He lost the Democratic nomination in a runoff to rival civil rights leader John Lewis in a bitter contest, in which Bond was accused of using cocaine and other drugs. As the 5th district had a huge Democratic majority, the nomination delivered the seat to Lewis, who still serves as congressman.
In the 1980s and 1990s, Bond taught at several universities in major cities of the North and South, including American, Drexel, Harvard, and the University of Virginia.
In 1998, Bond was selected as chairman of the NAACP. In November 2008, he announced that he would not seek another term as chairman. Bond agreed to stay on in the position through 2009 as the organization celebrated its 100th anniversary. Roslyn M. Brock was chosen as Bond's successor on February 20, 2010.

He continues to write and lecture about the history of the civil rights movement and the condition of African Americans and the poor. He is President Emeritus of the Southern Poverty Law Center.
From 1980 to 1997 he hosted America's Black Forum. He remains a commentator for the Forum, for radio's Byline, and for NBC's The Today Show. He authored thenationally syndicated newspaper column Viewpoint. He narrated the critically acclaimed PBS series Eyes on the Prize in 1987 and 1990.
Bond has been an outspoken supporter of the rights of gays and lesbians. He has publicly stated his support for same-sex marriage. Most notably he boycotted the funeral services for Coretta Scott King on the grounds that the King children had chosen an anti-gay megachurch. This was in contradiction to their mother's longstanding support for the rights of gay and lesbian people. In a 2005 speech in Richmond, VA, Bond stated:
African Americans … were the only Americans who were enslaved for two centuries, but we were far from the only Americans suffering discrimination then and now. … Sexual disposition parallels race. I was born this way. I have no choice. I wouldn't change it if I could. Sexuality is unchangeable.

In a 2007 speech on the Martin Luther King Day Celebration at Clayton State University in Morrow, GA, Bond said, "If you don't like gay marriage, don't get gay married." His positions have pitted elements of the NAACP against religious groups in the Black Civil Rights movement who oppose gay marriage mostly within the Southern Christian Leadership Conference (SCLC) who was blamed partly for the success of the recent gay marriage ban amendment in California.

Today, Bond is a Distinguished Professor in Residence at American University in Washington, D.C. He also is a faculty member in the history department at the University of Virginia at Charlottesville, where he teaches history of the Civil Rights Movement.
Stray Toasters
I like football. That's kind of well-known. I just saw a commercial on CBS about the Super Bowl: The game starts at 6:30 PM EST… but their game day coverage starts at

11:00 AM

. What. The. Hell?!

Temple of the Winds

: Done
On to 

Soul of the Fire

I just heard Emeli Sandè for the first time on The Late Show with David Letterman. I might have to track down some of her other stuff.
For Sara!…

I started playing Star Trek Online tonight. Because, you know, I need another time sink.
As much as I love my kids, look forward to the day when diapers are a thing of the past, and enjoy my iPad,  this is something that I don't foresee taking up space in our home.
Namaste.
Leave a Reply
You must be logged in to post a comment.