comics and animation, dining and cuisine, event, everyday glory, family and friends, football, games, geekery, kids, movies and TV
September 22nd, 2014

Monday – 22 September 2014
This past weekend was rather good.
I went into Friday thinking "Friday!" I came out of Friday "Blah." We had a situation at work that lasted all day, meaning that I wasn't really able to take care of any of the things that I had planned to tackle. By the time I got home, all I wanted to do was call it a day. Sara, the girls and I went out for dinner. By the time we got home and got the girls ready for bed, I was ready to decompress… but didn't know what I wanted to do. Sara! to the rescue: She brought me a glass of Maker's Mark, a bag of Doritos and suggested that I vent some frustration in Titanfall.
Best. Wife. Ever.
Knowing that I had a fairly atrocious night's sleep, Sara let me sleep in on Saturday morning. When I got up, Team DiVa and I went downstairs to watch a couple episodes of My Little Pony: Friendship Is Magic and the second half of The LEGO Movie. After lunch, the girls went down for naps. I probably should have, as well. But, I didn't. I did mow the lawn, though, so I'll count that as a "win." Saturday afternoon, we had a few friends over for a "Fall Cookie Extravaganza," as Sara called it. It was nice to be able to hang out and just enjoy the company of friends… and cookies. The girls turned into quite the little hostesses, as well: They would ask everyone who showed up what drinks they want and would pour a small – VERY small – drink for them. (I really think that it was more a matter of them liking to use the lemonade and water dispensers.) We had dinner and then we watched a couple of episodes of Doctor Who – one with Twelve, one with Ten.
Sunday morning, we got up and got ready to go out for breakfast. Instead of heading to Millcreek Cafe, as is our usual Sunday morning routine, we drove up to Layton to meet our favorite Treasure Valley Rollergirl, Mia Wallups (a.k.a. Jen)! We surprised her by inviting Dave, Angy and Gala, as well. At Sara's suggestion, we ate at Sill's Cafe. And it was worth the drive.
I tried a scone (which was, literally, as big as my head!) and biscuits and gravy, which were fantastic. I'm not sure exactly what everyone else had, but the consensus was that everyone's meals were good. It was also nice to catch up with Jen; life's been busy for both of us and we'd kind of lost track of each other in the process.
We came back home, got the girls a light lunch, and then put them down for naps. Once they were safely asleep, I headed downstairs to catch what was left of the second half of the Ravens-Browns game. I'd been tracking the game's progress and it had been a back-and-forth battle. But, in the end…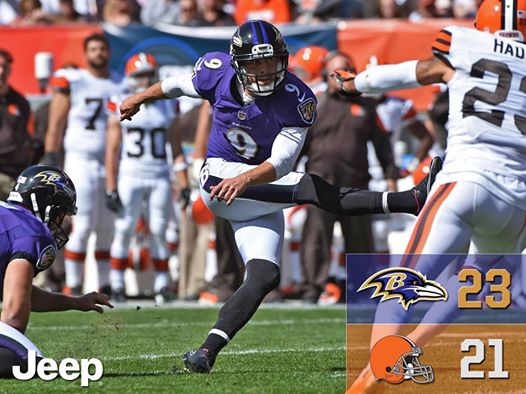 Justin Tucker nailed an at-the-buzzer field goal to put the Ravens at 2-1 on the season.
After the game, I went to the Big Shiny Robot & Bohemian Brewery's Nerd Swap Meet. I came home with a couple of finds:
When I got home, the girls wanted me to go for a ride in their "rocket ship." I love their imaginations. I'm going to have to find them either astronaut costumes or, at least, a couple of astronaut helmets. Sara reminded me that we'd promised them a trip to "the Slurpee store," so we returned to Earth and headed to the local 7-Eleven. Then, back home for dinner, kids' showers, a show (and a few Schoolhouse Rock! videos) before putting the ladies down for the night.
We wound up the night with glasses of wine and The Strain.
All-in-all, a good weekend.
Stray Toasters
Sunday would have been my friend, Jess', 40th birthday.
While watching the score of the Ravens' game, I thought about how much I would have enjoyed watching the game with Brad and our late friend Dave, a Browns fan.
I picked up Destiny last week. I have yet to play it, as I discovered that I need to get a new hard drive for my Xbox.
I'm still forming an opinion about the new Doctor. But, at this point, I'm liking him.
That's good for now.
Namaste.
Leave a Reply
You must be logged in to post a comment.