art, books, business and economy, comics and animation, dining and cuisine, event, everyday glory, faith and religion, family and friends, food for thought, geekery, history, movies and TV, music, news and info, space, style and fashion, The Covet List, the world, trains/model railroads, zombies
October 31st, 2011

Monday – 31 October 2011
It's Hallowe'en.
Many people have been posting "Happy Hallowe'en" on their various social media outlets. Thanks to them, I have had the "Silver Shamrock" jingle (from Halloween III: Season of the Witch) running through my head for the past 3+ hours. It's been about as annoying as the time I had Escape stuck in my head for three days…
The weekend was good, but a bit long and tiring. SaraRules! messed up her back sometime Thursday night/Friday morning. As such, I was the point man for taking care of the girls for most of the weekend. Fortunately, they took a modicum of mercy on me — they weren't extremely fussy or irritable. (Thank you bouncy chair and swing!)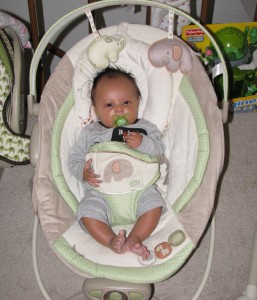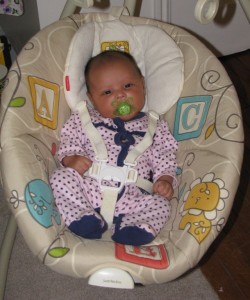 Diana (left) and Vanessa (right)
But, by the time we were putting them to bed last night, I realized just how tired I was and how ready I was for them to be down for the count.
On the flip side, I was still home when they woke up this morning, so I got kid cuddles before heading to work.
Last night, we also headed up to SaraRules' parents' house for dinner, Disney's Ichabod Crane and Hallowe'en cookie decorating. It's tradition! (And, it's pretty fun, too.)
Stray Toasters
And that's that… for now.
Namaste.
Leave a Reply
You must be logged in to post a comment.