comics and animation, dining and cuisine, event, everyday glory, geekery, history, kids, movies and TV, music, people, running, style and fashion, Whiskey Tango Foxtrot...?!
July 10th, 2013

Wednesday – 10 July 2013
Welcome to the middle of the week.
After a less-than-stellar start to the work week, things seem to be picking up steam. I'm good with that.
Today is also Movie Date Night… and it's my turn to pick a movie. I should probably try to come up with an idea of what we're going to watch.
This weekend, Sara!, Team DiVa and I are running participating in the Young Living Farms Run Through the Lavender 5k on Saturday. This year will be our fourth time doing it. ("It's tradition!") My time was better last year than  in 2011 – even with my running buddy strapped to my chest…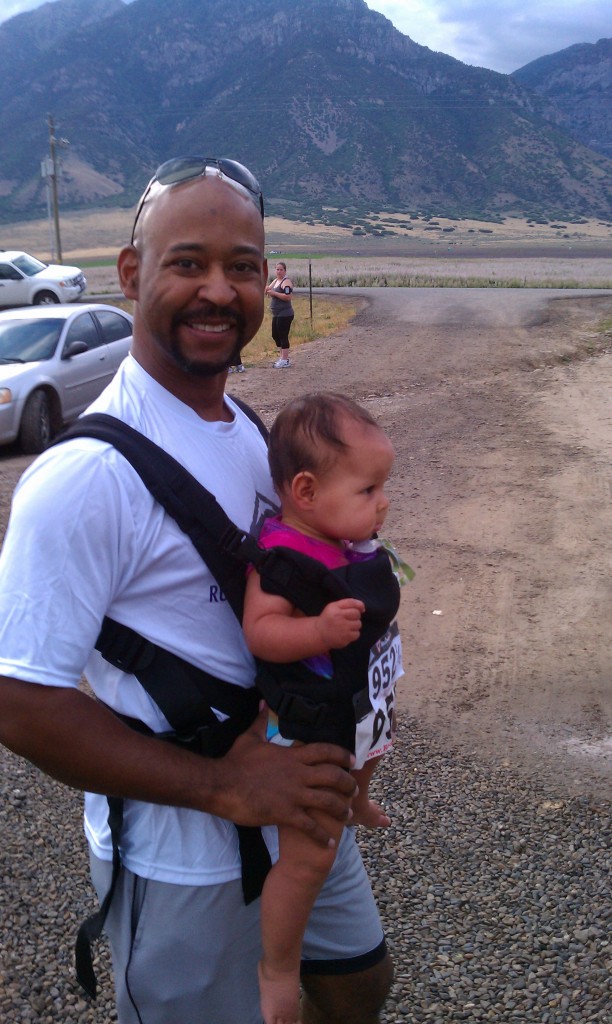 …but I am fairly certain that I'm going to lose a few minutes this year, as my running buddy has gotten a little bigger. Not big enough to walk it herself, though – she'll be on my back. Still, it should be fun. Aside from waking up at O'dark-thirty to be at the starting line on time. My goal: To not be the last person across the finish line. I'm Ivory Soap sure that I can accomplish this goal.
Speaking of "kids in backpacks," we figured that we should test drive walking around with Team DiVa in their carriers as backpacks, rather than chest packs. It's been… six months, at least, since they've been in the carriers. So, we expected some reluctance.
Vanessa made it immediately known that she was having none of this foolishness, with immediate cries of "Get down! Get down!"
*sigh*
Diana was a little more accommodating. A little. She made it about thirty seconds before she decided that she wasn't going to put up with being in a carrier, either.
Round 1 –  Carriers: 0, Team DiVa 1
We were eventually able to convince Diana to try again. And she stayed put. Not surprisingly, Vanessa was more willing to get in her carrier after seeing that it wasn't as doom-laden as she had made it out to be.
And with that, we set off for a lap around the block. It went pretty well. By the time we completed our circuit, we decided to walk a little further, so we walked over to the cul-de-sac a block over. Still no problems. In fact, the girls seemed to have a decent time of it.
After getting the girls to bed, I watched another episode of David Tennant's Doctor Who and stayed up later than I should have watching Leon: The Professional. Good movie.
 Stray Toasters
Some days, you need a good laugh. I thank my friend, Jeremiah, for providing one this morning.
While looking for a post I did about concerts I've attended, I came across this post. It brought a smile to my face, not just because it ragged on the Steelers, but because it reminded me of my late friend, Dave.
I've finally gotten around to creating a music playlist based on The Endless (from Neil Gaiman's The Sandman):

Dream: Dreams (Van Halen)
Death: She Talks to Angels (The Black Crowes)
Delirium: Purple Haze (The Jimi Hendrix Experience)
Desire: The Principles of Lust (Enigma)
Despair: Sorrow (David Bowie)
Destiny: Tomorrow Never Dies (Sheryl Crow)
Destruction: War (Edwin Starr)

I'm craving doughnuts now that a Dunkin' Donuts franchise has opened locally. Go figure.
Namaste.
Leave a Reply
You must be logged in to post a comment.