dining and cuisine, engagement/wedding/marriage, event, everyday glory, family and friends, food for thought, kids, style and fashion, travel, Whiskey Tango Foxtrot...?!
June 18th, 2013

Monday – 17 June 2013 Tuesday – 18 June 2013
This has been a wonderful (and wonderfully taxing, at times) trip. In doing the pre-vacation math, I figured out that I haven't been home in three years (NC) or five years (MD). That is far too long. If it's within my power, it won't be so long between visits the next time. And hopefully not nearly as harried, either.
The impetus for this trip was to see my youngest sister get married. (And to be in the wedding, too, but that wasn't the main point.) On Saturday, Kristen jumped the proverbial broom. Jeff, her new husband, has been nothing but a stand-up guy in my encounters with him; I'm happy to welcome him into the family. I could not be happier for nor prouder of Kristen. And I feel all the more privileged by the fact that I was able to be a part of her special day.
But, let's backtrack a bit…
We left the Zion Curtain behind in Wednesday. We got up, out and on the way to the airport for Team DiVa's first trip on an airplane and their first visit to the Right Coast. I can happily say that they did very well on the ride, although Vanessa had a bit of a meltdown about 20 minutes before the plane landed.
The girls have talked with my father on Skype on many occasions, but Wednesday was the first time they met him, so there was a bit of "we think we know this guy" warm-up time involved. But after that, Vanessa would hardly let the man out of her sight. It was a constant barrage of "Ga'pa!" "Ga'pa!" Morning. Night. And if we went out, the first person she wanted to see when we got back was… you guessed it… "Ga'pa!"
Thursday, we ran out to visit my aunt, who also babysat me when I was the girls' age. We actually paid her and my uncle a surprise visit. It was exactly the reaction that I expected and totally worth the trip. There was also a sense of… a "Circle of Life" kind of completion, I guess… in having the girls running around and playing in the same place I played as a kid.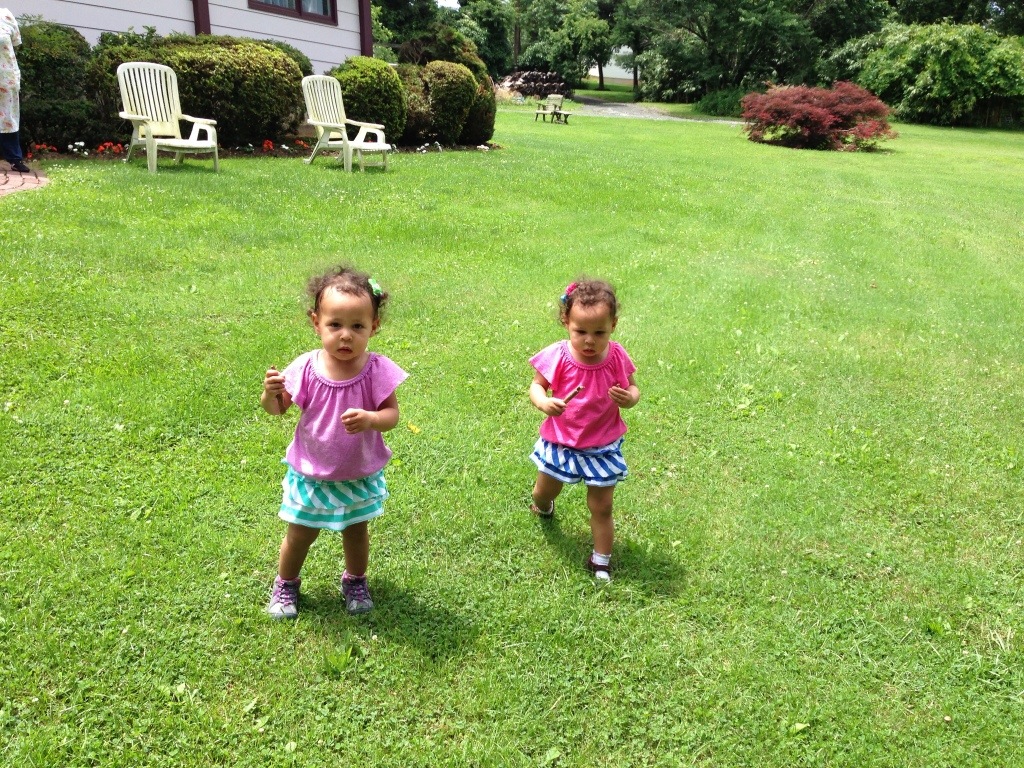 Thursday afternoon, Rana came into town and brought Grace, Sophia and Leila up to meet the girls.
Other than the occasional video chat, I haven't seen Grace or Sophia since Sara! and I got married and I'd never met Leila. All three are fine young ladies. Grace, being three-and-a-half years older than our girls, was more patient than I had expected. (Of course, having two younger sisters probably factors into it somewhere…) Sophia was the mediator, trying to calmly settle "I want this toy now" fights by saying that they all had to share. Leila, being the same age ( plus two weeks) as Team DiVa, just wanted to know "Who are these new kids and why are they playing with my toys?!" The eight off us went out for a late lunch at Earth Wood and Fire.
Friday, we got up and hit the road for North Carolina. We got a slightly earlier start than I had originally planned and it was a good thing: Traffic was snarled in a few places and we had to make longer-than-I-was-used-to stops with toddlers. The car ride was not as idyllic as the plane ride had been – there were mini-meltdowns along the way. Add to this, the fact that we were under the gun, with respect to time, as I needed to pick up and try on my tuxedo (in Greensboro) before heading to the hotel (in Winston-Salem) and on to the wedding rehearsal. Ugh… But, we made it. I was late to the rehearsal, but I was there. I also finally got to meet my niece (Kris' daughter), Kennadi, for the first time:
The rehearsal dinner was at a nice event center/art gallery. The girls did fairly well, putting up with being fawned over with their usual aplomb until they hit the wall and were just done width everyone. It's worked out well for Sara! and me: We took the opportunity to stop at a nearby Bojangle's for Cajun Filet Biscuits and seasoned fries. (Vanessa helped herself to about a quarter oh my sandwich.)
Saturday, we headed to Greensboro to meet Don, Christine and their boys for lunch at Five Guys. It was great to see them and to be able to catch up with what's been going on in each others' lives. After lunch and a quick shopping run, it was back to Winston-Salem to get ready for the wedding.
Dressed. Up. Out.
The venue was only a couple of blocks from the hotel, so we walked over. Unfortunately, there was a bicycle race going on between both places. Thus, we had to wait for breaks in the action – and the go-ahead from local law enforcement – to walk across the streets. When we got to the event center, I headed off to find the wedding party, leaving Sara! to wrangle Team DiVa by herself.
Things did not go well.
Why? Well, between me posting pictures of the girls in various places and my mother doing the same, there were A LOT of people who wanted to meet the girls in person. Let's look at a few simple facts:
Two toddlers,

One long plane ride,
One long car trip,
Off-kilter sleep schedule (especially naps), and
Dozens of people who want to pinch/poke/prod/kiss/cuddle/you-name-it the girls.
Yeah, you add those things up and they can only equal one thing: Meltdown.
And that's exactly what happened. They hit their threshold for dealing with people – especially a bunch of people they didn't know – and just hit the wall. And Sara! had to deal with it. (I really do have the Best Wife Ever.) Here's a picture she managed to get between episodes:
The three of them missed the ceremony and the reception. I missed most of the wedding party photos because we took the girls back to the hotel after the the ceremony; Sara! sent me back to the reception. (To my credit, I did bring her food and cake when I got back to the hotel.)
Sunday, we left Winston-Salem and headed back to Greensboro. On the way, I stopped in to see William and Charlie. They and their family are doing well. From there, it was on to Harlem Bistro for a small brunch for Kris and Jeff before they jetted off on their honeymoon.
We headed to Reidsville to get a hotel room for the night and to let Team DiVa get a nap. It partially worked. We got the room and they got a nap, but they never made it to the room for their nap. I wound up driving them around town while the room was being prepared. Go figure. Since the girls were up, we headed to my mother's house for a bit. They discovered Mom's piano. Mom, in turn, asked when we were signing them up for lessons.
Monday, it was back over to Mom's before hitting the road again. We picked up breakfast and spent a little time with the North Carolina parental units before piling back into the car for the journey to the Baltimore parental units' house. Team DiVa not only rediscovered the piano…
…but they also played with Kennadi…
…at least as much as an 8-month-old can play with two year-and-a-half old toddlers. But, they made it work. All too soon, it was time to say goodbye.
On the way back to Baltimore, we stopped off to visit Sara!'s cousin, Katie, Royce and their kids. Turns out that they don't live too far from Rana and John. (Good to know for the next time we're on this side of the country.) The visit was nice not only because we got to see Katie and company, but also because Team DiVa had someone to play with for a bit.
We finally made it back to Baltimore and reunited Vanessa with her BFF. And all was well.
Tomorrow Today, I have some running around to do, but I also get to spend a little time with Bret, whom I haven't seen in at least five years, and some of my classmates from Park, whom I haven't seen in 25 years.
It should be a good day.
Namaste.
Leave a Reply
You must be logged in to post a comment.