basketball, computers, dining and cuisine, environment, event, everyday glory, food for thought, football, geekery, house and home, office antics, politics and law, style and fashion, trains/model railroads
July 1st, 2011

Friday – 01 July 2011
It's finally Friday. It's my 9/80 "on" Friday, but it's still "Friday." And it's the First of July. And it's the beginning of a long weekend. Win. Win . Win.
Today is also Canada Day.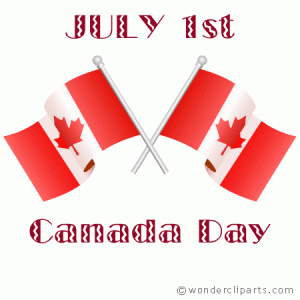 Happy national birthday to our beer and hockey-loving neighbors to the north!
Last night, SaraRules! and I did a little more to consolidate offices. We also looked at repainting the soon-to-be-guestroom. We headed out to the local Home Depot and picked up a couple of paint samples. We painted a couple of test sections and waited for them to dry. When we came back to look at them, we decided on Lemon Ice… which looks much more like it should have been named "Lime Ice," but oh well. It will be a good shade for the room.
I also managed to sneak in a few minutes to run my trains. It was relaxing. And fun.
Stray Toasters
I just got back from a rather tasty lunch with Nyx at Jasmine.
I'd be fine if the word "bromance" just… disappeared… from the cultural lexicon.
I'd also be fine if "man cave" followed it.
They want you to be Jesus
They'll go down on one knee
But they'll want their money back
If you're alive at thirty-three…
I just ordered this shirt. How could I not: It's a raven (duh) and it's Poe. I was powerless to refuse.
Namaste.
Leave a Reply
You must be logged in to post a comment.