business and economy, computers, everyday glory, football, geekery, house and home, kids, movies and TV, music, politics and law, robots and AI, Whiskey Tango Foxtrot...?!
August 23rd, 2012

Thursday – 23 August 2012
Man, I turn my back on this thing for a minute… and nearly two weeks go by!
To make up for it, here's a little Team DiVa goodness for you:
Yep, they're in overalls that their grandparents bought them – and have been waiting for them to grow into – a few months ago. What you can't exactly tell is that they are also wearing matching/coordinating t-shirts that their Aunt Galadriel bought them: Diana's says "Copy," where Vanessa's says "Paste."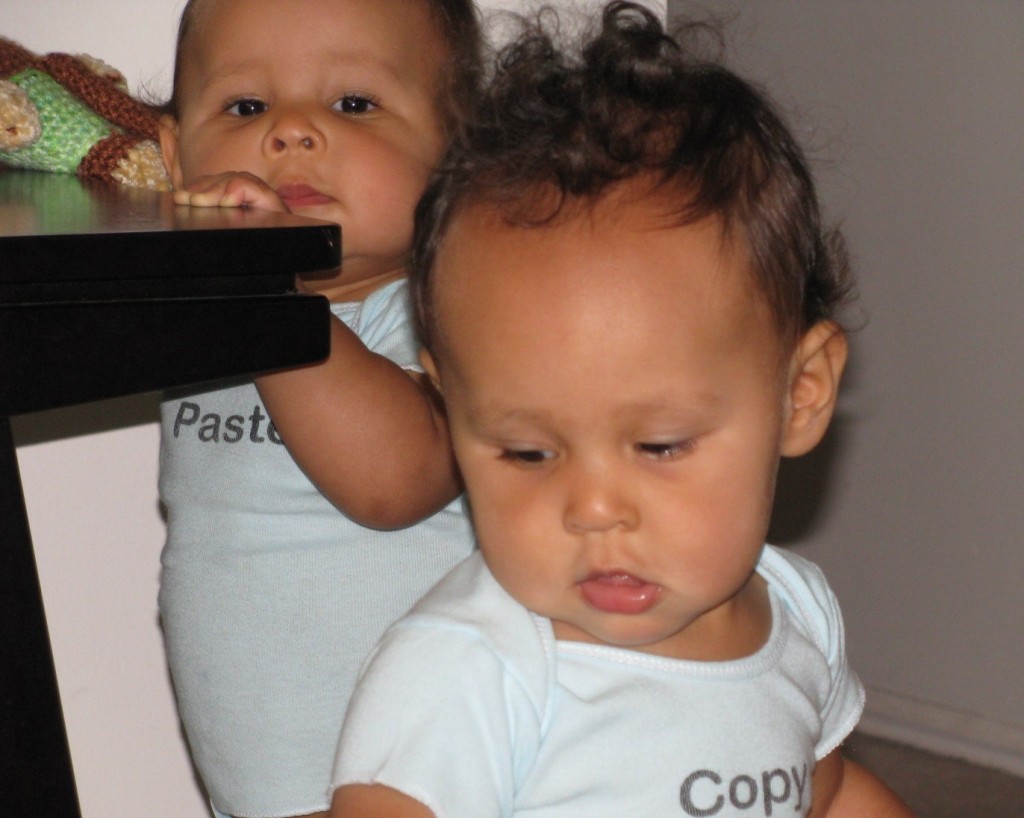 These shirts, in fact.
The girls are doing well. Diana's has trying out the whole "walking" thing; Vanessa has taken steps, as well… just not as frequently (or as daringly) as her big sister. They are also learning some sign language. So far, the big hits have been:
"Change," as in "change your diaper" (although, we don't get this one until after we ask if they need a change…)
"Water"
"Ball" has picked up some traction lately
and a sign that Vanessa has come up with for "excuse me," which she seems to have picked up from something I do when I say it.
And, at this point, we are slightly over two weeks away from them turning one-year-old. Wow.
Sidenote 1: Last night, I started teaching the girls to shake their fists and scowl – although, so far, I've only getting smiles and smirks – when I say "DOOOM!"  It's pretty amusing.
Sidenote 2: I totally missed an opportunity to video Diana rocking out to Rage Against the Machine's Renegades of Funk. BAH!!!
Stray Toasters
The Ravens came up with a big win in Preseason Week three tonight. 48-17 over the Jags.
The train room is coming along nicely. Walls are up and mudded. Ceiling went up – and was mudded – this past weekend. Just need to go back and sand and add a coat of topping compound on the ceiling… and then we're ready for painting!
Wow.
I've been enjoying the new Sunday Ticket commercials with Deion Sanders and the Manning brothers.
Starship Troopers: Invasion.  Uh, riiiiiight.
It seems that there's some… static… between Paul Ryan and Twisted Sister over the use of We're Not Going to Take It on the campaign trail. Okay, help me with a concept: How hard is it to call a band – or their designated agent – and ask permission to use it before making it part of your media presentation!? It's not rocket surgery, is it?
Okay, off to do some gaming, I think…
Namaste.
Leave a Reply
You must be logged in to post a comment.