comics and animation, dining and cuisine, event, everyday glory, family and friends, football, geekery, human of the day, movies and TV, music, stage plays and theatre, trains/model railroads, zombies
October 8th, 2011

Saturday – 08 October 2011
Today is Yom Kippur (it actually started last night at sundown). I'd like to wish my friends who celebrate it a safe and good day… as well as an easy fast.
Today is also our resident Kid Flash's one-month-day.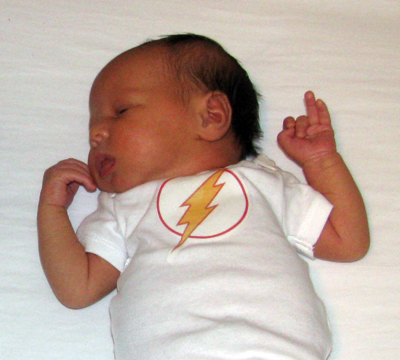 Last night, SaraRules!' friend from the Justice League Junior League, Jana, came by to visit and meet the girls. It was nice getting to chat with her for a bit. After the visit – and feeding the girls – SaraRules! and I managed to squeeze in a little time to catch the new episode of Fringe. Thank Heaven for DVRs…
Today, SaraRules! slipped out for a bit to go to her quilt club, while I stayed home with the girls. They actually let me sleep until nearly 10:00, which was great, as I was up (and intermittently napping) with Diana for a good portion of the wee hours of the morning. I'm heading to Dr. Volt's for their 21st Anniversary Sale and Signing. If you're in the Millcreek area, you should stop in and check things out.
And, this evening: Canadian Thanksgiving dinner.
Stray Toasters
Well, she sneaks around the world from Kiev to Carolina
She's a sticky-fingered filcher from Berlin down to Belize
She'll take you for a ride on a slow boat to China
Tell me, where in the world is Carmen Sandiego?
Yeah, I'm really wanting to tear down and rebuild my train layout.  If only I had a replacement layout in mind…
For SaraRules!: I think I've found an idea for family pictures: Post-Apocalypse Zombie-Slaying Family Portrait
This is absolutely cute: Elderly couple of 62 years plays piano

I can only hope that SaraRules! and I are that spry and having that much fun when we get to be their age.
Up. Out.
Namaste.
Leave a Reply
You must be logged in to post a comment.