art, comics and animation, computers, dining and cuisine, education, event, everyday glory, exhibits, family and friends, food for thought, health, history, movies and TV, music, office antics, politics and law, stage plays and theatre, travel, Whiskey Tango Foxtrot...?!, zombies
February 23rd, 2012

Thursday – 23 February 2012
Another No Bad News Thursday is upon us. Something that makes this day just a little bit better: The girls slept through the night again!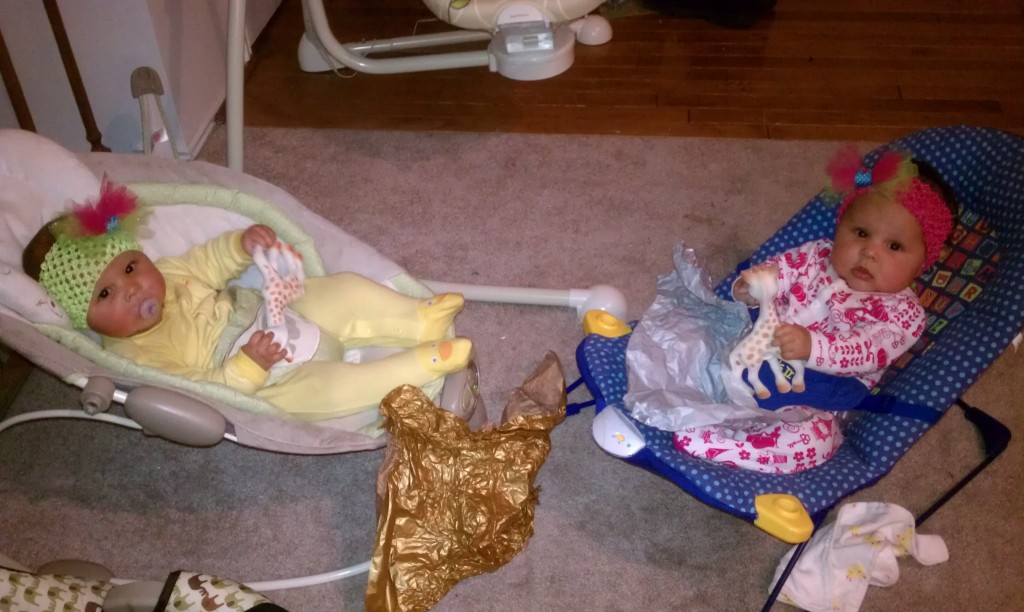 Vanessa (l) and Diana, in new headbands… rocking out with their Sophies and some tissue paper
This more than made up for the atrocious nights' sleep that I had. More unpleasant dreams and great case of heartburn. YAY!
SaraRules! had another Justice League meeting last night, so her father came over to dote over his granddaughters help me get the girls fed and to bed. And, to be honest, dote a bit. He and the girls played a bit. They took pictures. They told stories about the war.  (Okay, that was just to make sure that you were really paying attention.) Then it was dinner (carrots) time and before too long… time for bed and a story.
SaraRules!, on her way home from saving the world, stopped and got me Chinese food take-out. As it was a bit late for Pasta & Movie Date Night, we opted to finish off the first half of this season's The Walking Dead. Wow. Some things wound up the way I expected, while I didn't see a couple of things coming. (Yay for avoiding spoilers for the past two months!)
Chew on This: Food for Thought – Black History Month
Today's profile is: Madam C.J. Walker, an African-American businesswoman, entrepreneur and philanthropist.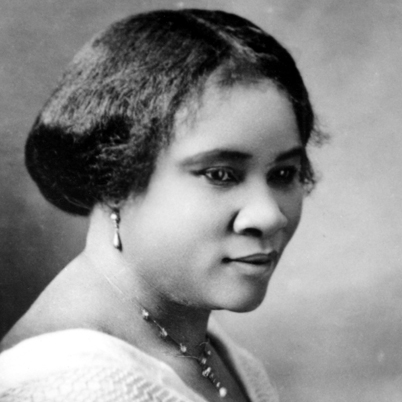 Madam C.J. Walker (December 23, 1867 – May 25, 1919) was born Sarah Breedlove in Delta, Louisiana to Owen and Minerva Breedlove. She was one of six children. Her parents and elder siblings were slaves on Madison Parish plantation owned by Robert W. Burney . She was the first child in her family born into freedom after the Emancipation Proclamation was signed.
Orphaned at the age of seven, Madam C. J. Walker moved in with her older sister, and brother-in-law, Willie Powell. At the age of 14, she married Moses McWilliams to escape Powell's abuse. Three years later her daughter, Lelia McWilliams (A'Lelia Walker) was born. When Sarah was 20, her husband died. Shortly afterward she moved to St. Louis where three of her brothers lived. Her second marriage to John Davis ended in 1903.
Driven by her own struggles with hair loss during 1890s, Madam C. J. Walker began experimenting with different hair care treatments and products. In 1905 she invented a method for straightening African-Americans' "kinky" hair: her method involved her own formula for a pomade, much brushing, and the use of heated combs. Encouraged by her success, she moved to Denver, Colorado, where she married Charles J. Walker. She promoted her method and products by traveling about the country giving lecture-demonstrations. Soon Sarah, now known as "Madam C. J. Walker," was selling her products throughout the United States. While her daughter Lelia (later known as A'Lelia Walker) ran a mail order business from Denver, Madam Walker and her husband traveled throughout the southern and eastern states. They settled in Pittsburgh in 1908 and opened Lelia College to train "hair culturists." In 1910 Walker moved to Indianapolis, Indiana where she established her headquarters and built a factory.
She began to teach and train other black women in order to help them build their own businesses. She also gave other lectures on political, economic and social issues at conventions sponsored by powerful black institutions. After the East St. Louis Race Riot, she joined leaders of the National Association for the Advancement of Colored People (NAACP) in their efforts to support legislation to make lynching a federal crime. In 1918 at the biennial convention of the National Association Of Colored Woman (NACW) she was acknowledged for making the largest contribution to save the Anacostia (Washington, DC) house of abolitionist Frederick Douglass. She continued to donate money throughout her career to the NAACP, the YMCA, and to black schools, organizations, individuals, orphanages, and retirement homes.
In 1917, she moved to her Irvington-on-Hudson, New York estate, Villa Lewaro, which had been designed by Vertner Tandy, the first licensed black architect in New York State and a founding member of Alpha Phi Alpha fraternity. Madam C.J. Walker died at Villa Lewaro on Sunday, May 25, 1919 from complications of hypertension. She was 51.
At the time of her death, Madam C. J. Walker was sole owner of her business, which was valued at more than $1 million. Her personal fortune was around $600,000 to $700,000. She left one-third of her estate went to her daughter—who herself became well known as a supporter of the Harlem Renaissance—the remainder to various philanthropies.
Stray Toasters
What's that you say? There will soon be a Princeless t-shirt?! Indeed!
Meetings all afternoon?  Must be Thursday.
Namaste.
Leave a Reply
You must be logged in to post a comment.