business and economy, comics and animation, everyday glory, games, geekery, history, kids, LEGO and Rokenbok, movies and TV, music, politics and law, science and technology, space
February 21st, 2013

Thursday – 21 February 2013
It's No Bad News Thursday. That's really all that needs to be said.

As I've mentioned, Team DiVa has a computer with a series of astronomy pictures as a screen saver in their room. The girls have been identifying things like "moon," "stars" and the closest that they can get to "nebula" for weeks now. Tonight, Vanessa surprised me with how well she could say "Saturn" – granted, it sounded more like "Sa'UHN" – when its picture appeared on the monitor. Yet another proud daddy moment.
After Team DiVa was in bed, Sara! and I watched Alex Cross.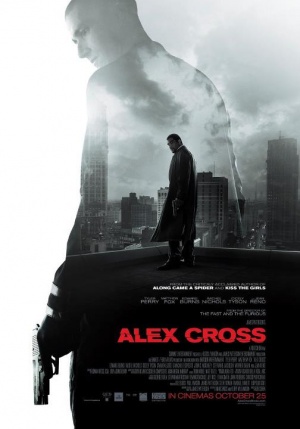 It wasn't an awesome movie. I'm not sure what I expected, but what I got was Alex Cross in more of an action movie than a thriller (as we got used to with Morgan Freeman's portrayals of Dr. Cross). It was… meh.
Oddly enough, though, I am curious about Tyler Perry's Medea movies. I know that he's made eleventy-seven of them, but I have never seen one. But, I'm considering it.
Chew on This – Food for Thought: Black History Month
Here are two items for Thursday:
Neil deGrasse Tyson – Scientist, television personality, writerTyson was born as the second of three children in the borough of Manhattan in New York City, but was raised in the Bronx. His mother, Sunchita Feliciano Tyson, was a gerontologist, and his father, Cyril deGrasse Tyson, was a sociologist, human resource commissioner for the New York City mayor John Lindsay and the first Director of Harlem Youth Opportunities Unlimited. Tyson attended the Bronx High School of Science (1972–1976, astrophysics emphasis) where he was captain of the wrestling team and was editor-in-chief of the school's Physical Science Journal. Tyson had an abiding interest in astronomy since he was nine years old, following his visit to the Hayden Planetarium. He obsessively studied astronomy in his teens, and eventually even gained some fame in the astronomy community by giving lectures on the subject at the age of fifteen. Tyson recalls that "so strong was that imprint [of the night sky] that I'm certain that I had no choice in the matter, that in fact, the universe called me."
Astronomer Carl Sagan, who was a faculty member at Cornell University, tried to recruit Tyson to Cornell for undergraduate studies. During an interview with writer Daniel Simone, Tyson said, "Interestingly, when I applied to Cornell, my application dripped of my passion for the study and research of the Universe. Somehow the admissions office brought my application to the attention of the late Dr. Sagan, and he actually took the initiative and care to contact me. He was very inspirational and a most powerful influence. Dr. Sagan was as great as the universe, an effective mentor." Tyson chose to attend Harvard University, however, where he majored in physics. He was a member of the crew team during his freshman year, but returned to wrestling, eventually lettering in his senior year. In addition to wrestling and rowing in college, he was active in dance in styles including jazz, ballet, Afro-Caribbean, and Latin Ballroom. Tyson earned aBachelor of Arts in physics from Harvard in 1980 and began his graduate work at the University of Texas at Austin, where he earned a Master of Arts in astronomy in 1983. In 1985, he won a gold medal with the University of Texas dance team at a national tournament in the International Latin Ballroom style. Tyson transferred from the University of Texas at Austin to Columbia University in 1988 after his committee was dissolved. At Columbia University, in 1989, he received a Master of Philosophy in astrophysics and, in 1991, he earned a doctor of philosophy in astrophysics.Tyson's research has focused on observations in stellar formation and evolution as well as cosmology and galactic astronomy. He has held numerous positions at institutions including University of Maryland, Princeton University, the American Museum of Natural History, and Hayden Planetarium.

Tyson has written a number of popular books on astronomy. In 1995, he began to write the "Universe" column for Natural History magazine. In a column he authored for the magazine in 2002, Tyson coined the term "Manhattanhenge" to describe the two days annually on which the evening sun aligns with the cross streets of the street grid in Manhattan, making the sunset visible along unobstructed side streets. Tyson's column also influenced his work as a professor with The Great Courses.


In 2001, US President George W. Bush appointed Tyson to serve on the Commission on the Future of the United States Aerospace Industry and in 2004 to serve on the President's Commission on Implementation of United States Space Exploration Policy, the latter better known as the "Moon, Mars, and Beyond" commission. Soon afterward he was awarded the NASA Distinguished Public Service Medal, the highest civilian honor bestowed by NASA.


In 2004, he hosted the four-part Origins miniseries of PBS's Nova, and, with Donald Goldsmith, co-authored the companion volume for this series, Origins: Fourteen Billion Years Of Cosmic Evolution. He again collaborated with Goldsmith as the narrator on the documentary 400 Years of the Telescope which premiered on PBS in April 2009.

As director of the Hayden Planetarium, Tyson bucked traditional thinking in order to keep Pluto from being referred to as the ninth planet in exhibits at the center. Tyson has explained that he wanted to look at commonalities between objects, grouping the terrestrial planets together, the gas giants together, and Pluto with like objects and to get away from simply counting the planets. He has stated on The Colbert Report, The Daily Show, and BBC Horizon that this decision has resulted in large amounts of hate mail, much of it from children. In 2006, the International Astronomical Union (IAU) confirmed this assessment by changing Pluto to the dwarf planet classification. Daniel Simone wrote of the interview with Tyson describing his frustration. "For a while, we were not very popular here at the Hayden Planetarium."

Tyson has been vice-president, president, and chairman of the board of the Planetary Society. He was also the host of the PBS program Nova ScienceNow until 2011. He attended and was a speaker at the Beyond Belief: Science, Religion, Reason and Survival symposium on November 2006. In 2007, Tyson, who is known for his vibrant character, cheerful demeanor, and awe of the vastness of the universe itself, was chosen to be a regular on The History Channel's popular series The Universe.

In May 2009, he launched a one-hour radio talk show called StarTalk, which he co-hosted with comedienne Lynne Koplitz. The show was syndicated on Sunday afternoons on KTLK AM in Los Angeles and WHFS in Washington DC. The show lasted for thirteen weeks, but was resurrected in December 2010 and then, co-hosted with comedians Chuck Nice and Leighann Lord instead of Koplitz. Guests range from colleagues in science to celebrities such as Gza, Wil Wheaton, Sarah Silverman, and Bill Maher. The show is also available via the internet through a live stream or in the form of a podcast.

In April 2011, Tyson was the keynote speaker at the 93rd International Convention of the Phi Theta Kappa International Honor Society of the Two-year School. He and James Randi delivered a lecture entitled Skepticism, which related directly with the convention's theme of The Democratization of Information: Power, Peril, and Promise.

In 2012, Tyson announced that he would appear in a YouTube series based on his radio show StarTalk. A premiere date for the show has not been announced, but it will be distributed on the Nerdist YouTube Channel.




Sarah Vaughan – Singer
Sarah Lois Vaughan (March 27, 1924 – April 3, 1990) was an American jazz singer. Nicknamed "Sailor" (for her salty speech), "Sassy" and "The Divine One", Sarah Vaughan was a Grammy Award winner. The National Endowment for the Arts bestowed upon her its "highest honor in jazz", the NEA Jazz Masters Award, in 1989.Sarah began piano lessons at the age of seven, sang in the church choir and occasionally played piano for rehearsals and services. Vaughan developed an early love for popular music on records and the radio. In the 1930s, Newark had a very active live music scene and Vaughan frequently saw local and touring bands that played in the city at venues like the Montgomery Street Skating Rink. By her mid-teens, Vaughan began venturing (illegally) into Newark's night clubs and performing as a pianist and, occasionally, singer, most notably at the Piccadilly Club and the Newark Airport USO.Vaughan initially attended Newark's East Side High School, later transferring to Newark Arts High School, which had opened in 1931 as the United States' first arts "magnet" high school. However, her nocturnal adventures as a performer began to overwhelm her academic pursuits and Vaughan dropped out of high school during her junior year to concentrate more fully on music. Around this time, Vaughan and her friends also began venturing across the Hudson River into New York City to hear big bands at the Apollo Theater in Harlem.

Sometime in the fall of 1942 (when Sarah was 18 years old), Vaughan suggested that Robinson enter the Apollo Theater Amateur Night contest. Vaughan played piano accompaniment for Robinson, who won second prize. Vaughan later decided to go back and compete herself as a singer. Vaughan sang "Body and Soul" and won, although the exact date of her victorious Apollo performance is uncertain. The prize, as Vaughan recalled later to Marian McPartland, was US$10 and the promise of a week's engagement at the Apollo. After a considerable delay, Vaughan was contacted by the Apollo in the spring of 1943 to open for Ella Fitzgerald.

Sometime during her week of performances at the Apollo, Vaughan was introduced to bandleader and pianist Earl Hines, although the exact details of that introduction are disputed. Billy Eckstine, Hines' singer at the time, has been credited by Vaughan and others with hearing her at the Apollo and recommending her to Hines. After a brief tryout at the Apollo, Hines officially replaced his existing male singer with Vaughan on April 4, 1943.

Eckstine left the Hines band in late 1943 and formed his own big band with Gillespie, leaving Hines to become the new band's musical director. Parker came along too, and the Eckstine band over the next few years would host a startling cast of jazz talent: Miles Davis, Kenny Dorham, Art Blakey, Lucky Thompson, Gene Ammons, Dexter Gordon, among others.

Vaughan accepted Eckstine's invitation to join his new band in 1944, giving her an opportunity to develop her musicianship with the seminal figures in this era of jazz. Eckstine's band also afforded her first recording opportunity, a December 5, 1944 date that yielded the song "I'll Wait and Pray" for the Deluxe label. That date led to critic and producer Leonard Feather to ask her to cut four sides under her own name later that month for the Continental label, backed by a septet that included Dizzy Gillespie and Georgie Auld. Vaughan officially left the Eckstine band in late 1944 to pursue a solo career, although she remained very close to Eckstine personally and recorded with him frequently throughout her life.

Vaughan began her solo career in 1945 by freelancing in clubs on New York's 52nd Street such as the Three Deuces, the Famous Door, the Downbeat and the Onyx Club. Vaughan also hung around the Braddock Grill, next door to the Apollo Theater in Harlem. After being invited by violinist Stuff Smith to record the song "Time and Again" in October, Vaughan was offered a contract to record for the Musicraft label by owner Albert Marx, although she would not begin recording as a leader for Musicraft until May 7, 1946. Vaughan's recording success for Musicraft continued through 1947 and 1948.

A musicians union ban pushed Musicraft to the brink of bankruptcy and Vaughan used the missed royalty payments as an opportunity to sign with the larger Columbia record label. During her tenure at Columbia through 1953, Vaughan was steered almost exclusively to commercial pop ballads, a number of which had chart success.

Vaughan also achieved substantial critical acclaim. She won Esquire magazine's New Star Award for 1947 as well as awards from Down Beat magazine continuously from 1947 through 1952, and from Metronome magazine from 1948 through 1953. A handful of critics disliked her singing as being "over-stylized", reflecting the heated controversies of the time over the new musical trends of the late 40s. However, the critical reception to the young singer was generally positive.

Vaughan began recording for Roulette Records in April 1960, making a string of strong large ensemble albums arranged and/or conducted by Billy May, Jimmy Jones, Joe Reisman, Quincy Jones, Benny Carter, Lalo Schifrin, and Gerald Wilson. When her contract with Roulette ended in 1963, Vaughan returned to the more familiar confines of Mercury Records. At the conclusion of her Mercury deal in 1967, she was left without a recording contract for the remainder of the decade.

The seventies heralded a rebirth in Vaughan's recording activity. In 1971, Bob Shad, who had worked with her as producer at Mercury Records, asked her to record for his new record label, Mainstream Records. Vaughan's relationship with Mainstream soured in 1974; this left Vaughan again without a recording contract for three years.

In December 1974, Vaughan played a private concert for the United States President Gerald Ford and French president Giscard d'Estaing during their summit on Martinique.

Vaughan remained quite active as a performer during the 1980s and began receiving awards recognizing her contribution to American music and status as an important elder stateswoman of jazz.

Vaughan's final complete album was Brazilian Romance, produced and composed by Sérgio Mendes and recorded primarily in the early part of 1987 in New York and Detroit. In 1988, Vaughan contributed vocals to an album of Christmas carols recorded by the Mormon Tabernacle Choir with the Utah Symphony Orchestra and sold in Hallmark Cards stores. In 1989, Quincy Jones' album Back on the Block featured Vaughan in a brief scatting duet with Ella Fitzgerald. This was Vaughan's final studio recording and, fittingly, it was Vaughan's only formal studio recording with Fitzgerald in a career that had begun 46 years earlier opening for Fitzgerald at the Apollo.

Vaughan is featured in a number of video recordings from the 1980s. Sarah Vaughan Live from Monterey was taped in 1983 or 1984 and featured her working trio with guest soloists. Sass and Brass was taped in 1986 in New Orleans and also features her working trio with guest soloists, including Dizzy Gillespie and Maynard Ferguson. Sarah Vaughan: The Divine One was featured in the American Masters series on PBS. Also in 1986, on Independence Day in a program nationally-televised on PBS she performed with the National Symphony Orchestra, conducted by Mstislav Rostropovich, in a medley of songs composed by George Gershwin


In 1989, Vaughan's health began to decline, although she rarely revealed any hints in her performances. She canceled a series of engagements in Europe in 1989 citing the need to seek treatment for arthritis in the hand, although she was able to complete a later series of performances in Japan. During a run at New York's Blue Note Jazz Club in 1989, Vaughan received a diagnosis of lung cancer and was too ill to finish the final day of what would turn out to be her final series of public performances.

Vaughan returned to her home in California to begin chemotherapy and spent her final months alternating stays in the hospital and at home. Vaughan grew weary of the struggle and demanded to be taken home, where she died on the evening of April 3, 1990, while watching a television movie featuring her daughter, a week after her 66th birthday.

Stray Toasters
Namaste.
Leave a Reply
You must be logged in to post a comment.