art, cars, comics and animation, everyday glory, food for thought, geekery, human of the day, kids, movies and TV, music, stage plays and theatre, toys
January 14th, 2014

Tuesday – 14 January 2014
Life with kids can be interesting. It would probably be best to say that life with kids is often interesting. That's not to say that it's not fun. And exciting. And, all too often, very amusing.
Over the past couple of months, we've introduced the concept of "time out" to Team DiVa. It's been met with mixed results. Most often, when one of the girls does something to antagonize her sister and I tell them they're going to time out, they either:
Start saying "I not going to time out! I not going to time out!,"
Make a bee-line for Sara!,
Start crying,
Some combination of all of the above.
But, time out usually happens. (They do not like it.) And they stay there until they tell me why it is that they are in time out. Once they tell me that, I ask them what they need to do to get out of time out, which is usually finding their sister, saying they are sorry and giving their sister a hug.
So, you can imagine my surprise – and amusement – when I came home from work today to find that the girls had introduced something new to their toys. They have a handful of Fisher-Price Little People figures, including three Wonder Woman figures and a Batgirl figure. They would have the figures playing, hit them together, then tell one figure that it was going to time out.
Also, this: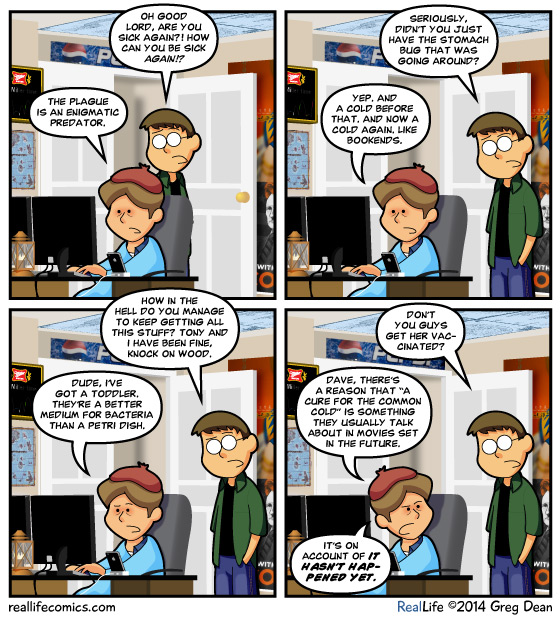 Stray Toasters
Sara! and I have been watching the current/modern Doctor Who, starting with The Ninth Doctor and have just gotten back to The Eleventh Doctor. Until this, I'd not seen the Ninth or Tenth Doctor (outside of "Blink"). I really enjoyed Mr. Tennant's Doctor, he may be my favorite after Tom Baker, of course… which made me enjoy this all the more.
Denial is a helluva drug.

Flying Mouse 365, the art of Chow Hon Lam
2013 was the 75th Anniversary of Superman. To celebrate that fact, Comic Book Resources compiled a list of "The 75 Greatest Superman Stories of All Time."
Debbie Harry, as a Valkyrie (or a knight)? I'm all for it.
I wish that this Indiegogo campaign had gotten more of a signal boost when it would have helped the cause; I would have enjoyed seeing something like this produced.
Namaste.
One Response to "Team DiVa Tuesday – 14 January 2014"
Melly Crane Says:
January 14th, 2014 at 2:41 PM

I loved it when the girls would play dinosaurs with me, but we'd have the dinosaurs give each other kisses instead of hitting. Kisses will not lead to a time out! (At least not for another 12, 13 years.)
Leave a Reply
You must be logged in to post a comment.