event, everyday glory, food for thought, history
November 11th, 2016

Friday – 11 November 2016
Today is Veteran's Day.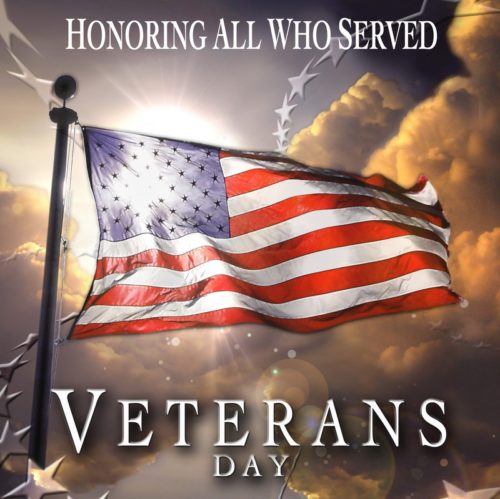 On the 11th hour of the 11th day of the 11th month of 1918, an armistice, or temporary cessation of hostilities, was declared between the Allied nations and Germany in the First World War, then known as "the Great War." Commemorated as Armistice Day beginning the following year, November 11th became a legal federal holiday in the United States in 1938. In the aftermath of World War II and the Korean War, Armistice Day became Veterans Day, a holiday dedicated to American veterans of all wars. 

On November 11, 1921, an unidentified American soldier killed in the war was buried at Arlington National Cemetery in Washington, D.C.; the U.S. Congress had declared the day a legal federal holiday in honor of all those who participated in the war. On the same day the previous year, unidentified soldiers were laid to rest at Westminster Abbey in London and at the Arc de Triomphe in Paris.

On June 4, 1926, Congress passed a resolution that the "recurring anniversary of [November 11, 1918] should be commemorated with thanksgiving and prayer and exercises designed to perpetuate peace through good will and mutual understanding between nations" and that the president should issue an annual proclamation calling for the observance of Armistice Day. By that time, 27 state legislatures had made November 11 a legal holiday. An act approved May 13, 1938 made November 11 a legal Federal holiday, "dedicated to the cause of world peace and to be hereafter celebrated and known as 'Armistice Day.'"

American effort during World War II (1941-1945) saw the greatest mobilization of the U.S. Army, Navy, Marines and Air Force in the nation's history (more than 16 million people); some 5.7 million more served in the Korean War (1950 to 1953). In 1954, after lobbying efforts by veterans' service organizations, the 83rd U.S. Congress amended the 1938 act that had made Armistice Day a holiday, striking the word "Armistice" in favor of "Veterans." President Dwight D. Eisenhower signed the legislation on June 1, 1954. From then on, November 11 became a day to honor American veterans of all wars.

In the United States, an official wreath-laying ceremony is held each Veterans Day at the Tomb of the Unknowns in Arlington National Cemetery, while parades and other celebrations are held in states around the country. Veterans Day is not to be confused with Memorial Day–a common misunderstanding, according to the U.S. Department of Veterans Affairs. Memorial Day (the fourth Monday in May) honors American servicemembers who died in service to their country or as a result of injuries incurred during battle, while Veterans Day pays tribute to all American veterans–living or dead–but especially gives thanks to living veterans who served their country honorably during war or peacetime.

excerpted from History.com
I would like to take a moment to thank all of those – and especially my family, friends, and extended family – who served our country, both in peace and in wartime. I appreciate your sacrifices so that I can live in a country where I can reap the benefits of the freedom for which you fought.
I would also like to leave you with this article, first printed in Esquire in 2010: The Things That Carried Him.
Namaste.
Leave a Reply
You must be logged in to post a comment.