books, comics and animation, dining and cuisine, engagement/wedding/marriage, everyday glory, geekery, kids, movies and TV, robots and AI, Whiskey Tango Foxtrot...?!
April 25th, 2013

25 April 2013
It's another sunny – and moderately warm – NBN Thursday in the valley.
Last night, was not only Movie Date Night, but it was Sara!'s turn to pick a movie. The only things that she would say about the night's fare was that it required – REQUIRED – popcorn and that it was "the greatest movie ever made." I was intrigued by these comments, to say the least.
After a messy dinner  (Two toddlers with Greek food… and rice. Do the math.) and some clean-up, it was time for the movie. And I was, to say the least, surprised by her choice: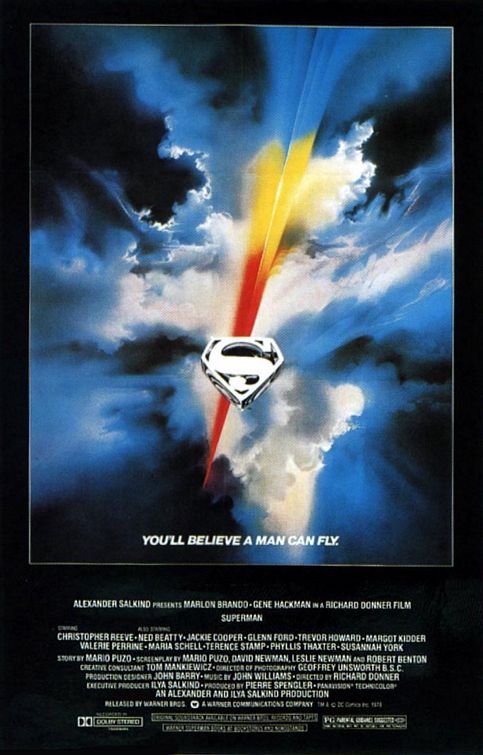 That's right: Superman. My all-time favorite movie.
Best. Wife. Ever.
So we sat on the couch, ate popcorn, and watched Christopher Reeve, Gene Hackman, Margot Kidder and company bring a small slice of the DC Universe to life. And, once again, I was transported to a happy place in my childhood. I  was also able to pick out a few things that I'd never paid attention or associated with the movie before:
Faster than a speeding bullet: Clark snatches the bullet out of mid-air during the mugging.
More powerful than a locomotive: This one comes up twice:

Teenaged Clark is races the train through rural Kansas
Superman subs in for a missing rail as an Amtrak train approaches

Able to leap tall buildings in a single bound: This one's a given – he flies throughout the second half of the movie.
Who can change the course of mighty rivers: Not so much changing the course of a river, but he creates a makeshift dam to stop a river from destroying a town
Bend steel in his bare hands: Again, another two-fer:

He tears the door to Lex Luthor's lair off it's hinges
He tears off the door to Lois' rental car after the California earthquake
At the end of the movie, Sara! admitted: "You know, I hadn't thought about it the last time we watched it, but that was actually a pretty good movie." (I simply nodded and smiled at this. Hey, I'm biased… not stupid.) I did have to correct Sara!'s misconception of the "spinning the world in reverse" visual and explain that it wasn't him turning the world backwards, but that it was simply a representation of him going back in time. (For which there are a great many references in the comics…)
All-in-all, it was a fantastic movie date night.
Stray Toasters
After what felt like slogging through the first ten chapters, I find that I'm kind of enjoying The Pillars of Creation. Go figure.
Namaste.
Leave a Reply
You must be logged in to post a comment.